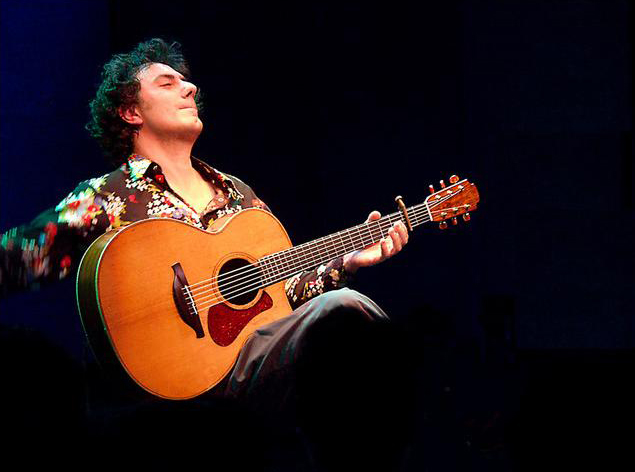 Is there one?  French Film Hero? – No problem. Container carloads o' Actors or Directors. French Fashion Hero? Again – at least five pop to mind. But French Guitar Hero? You're drawing a blank, dear reader, are you not? Unless you're a guitarist, or "into" acoustic Guitar music.  Then your immediate response would be : "Pierre Bensusan." So, if you're just hearing that name for the first time – read on!
What makes Pierre Bensusan not only a French Guitar hero, but an International one, is his ability to make the guitar sound like an entire orchestra. Ok – at least an entire band. Normally a guitar is either a rhythmn or a lead instrument. Pierre's style(his own) accomplishes both at the same time. If you close your eyes at one of his performances, you will swear there are(at least) two guitars playing.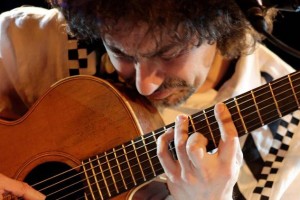 Equally amazing is that Pierre is self taught.(what the French call : "autodidacte.")
He employs a well know "open" tuning(ie different from the standard "this-is-how-you-tune-your-guitar" one) called DADGAD. Named after the pitch to which the strings are tuned. This tuning has the advantage of letting the strings reasonate(ring) more than the standard tuning, and generally requires less involvement of the left hand.(ie –ya don't need as many fingers) Pierre is known as "The King of Dadgad"for his popularization of the "DADGAD" tuning.
Pierre was born in Algeria, and began his musical career with the piano at age seven. By eleven, he'd switched to the guitar, and that's where he's been ever since. (Although he can still scorch the ivories when he's in the mood.)
I first became aware of Pierre(much too late, for a guitarist. Shame on me!) when he performed in San Francisco on the "International Guitar Night" tour. Obviously blown away by the musical experience, and, as a film-maker interested in French subjects – it was ordained that my cameras and I would visit Pierre that Summer.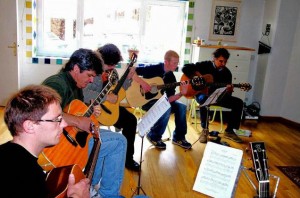 And, verily, it came to pass. The occasion was one of the Master Class" workshops that Pierre offers to a small group of students each Summer, who live in a self-contained section of Pierre's house in a small village outside of Paris. They have set daily hours of instruction with Pierre, the rest of the time is theirs, to practice, and explore. Of course, Pierre  does'nt do this for free. But it is a mark of his generousity of spirit that he's willing to do it at all. And, especially in his own home. Clearly, his willingness and desire to pass on what he's learned, is equal to his indeniable musical talent.
No amount of words, regardless of the quality of the author, could hope to begin to do justice to the feeling that Pierre's music generates. But, as a guitarist, what lifts Pierre head and shoulders above his talented acoustic guitar "brothers",is  his ability to transform me from an interested and attentive fellow player, into an entrhralled, amazed listener. My jaw squarely on the floor. My heart surging with the ebb and flow of Pierre's musical sea.
Like to hear for yourself?
Now, did your ears get opened a bit here?
THROW  ME  A  BONE  HERE  PEOPLE!
what are ya thinkin'?