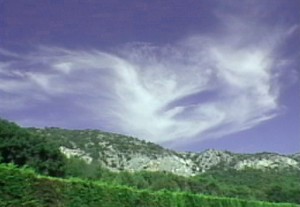 My Secret Provence is not really a secret. Just less publicized than the "classic" Provence. The one, thanks largely to Peter Mayles, we think of as long lazy lunches, pastis and petanque. And, indeed, these clichés, are part of the Provencal reality.
But there is another Provence(…uh..that would be….mine)….that has all the charm of Mr. Mayles subject matter, is pleasantly warm, not scorching hot, and is"the road less travelled" as far as tourists are concerned.
Creative Visualization
Picture if you will, a valley filled with lavender, olives and vineyards. Surrounded by mountains – providing cooling winds in summer, limitless trails for hikers, challenging ascents for cyclists. A photographers paradise. Nature –left-right and center. Perfect for walkers, bird watchers, and private picnics. Dotted with tiny villages filled with genuinely friendly locals. (And are'nt they the best kind?) Could that work for you?
The Beans Spilled!
Ok – gonna let the cat outa da bag! My Secret Provence is a region called "Le Drome." More accurately, "Le Drome Provencal" Because, although it begins where Provence(legally) ends, it has the same agriculture and climate. (with the exception of the cooling mountain winds.) Although La Drome extends further north up the Rhone valley, the triangle bounded by Orange on the South, Montelimar, North, and Nyons on the East, is generally consider "la Drome Provencal."
Da Gritty Details
Nyons(pro –"knee –ons") bills itself as "Le Petite Nice." – A tip o' the hat to it's "big Sister" down South. It's small enough to be do-able in Summer, with all the basic "commerce" you might need.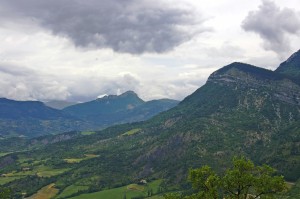 The Mountains(you're at the foot of the Alps now, folks) get closer and bigger, as you head east from Nyons, in the general direction of Italy. After about 8 kms,(your signpost will be "Concordet") you'll be in the "Hameau"(tiny collection of houses and no commerce) of "Le Bonte." And, this is where the BG styles ya big time!
A Down Home Chateau
Until now, one o' my best kept secrets. But, hey, my gig is to hip ya to the best o' da best. Treasures of France that you'd probably never discover without me. (In all modesty!) There are several things that make the Chateau Colombier unique. First of all, it's not a "Chateau" in the classic sense of the word. No massive walls, towers, drawbridges, moats or thousands of years of History. Would you believe –200 years? A solid, authentic converted French Country house. Converted and hosted by Clare Howard. An English lover of France, who shares her love of this region, her cozy rooms and incredible cooking with folks from all over, who are lucky enough to find "Chateau Colombier."
So, why dontcha take a (virtual) stroll around the grounds(and La Drome Provencal) and see if ya feel at home?