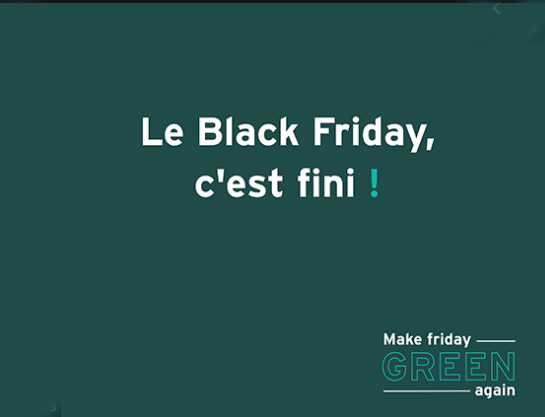 Black Friday in France – soon banned? A final "au revoir" to France's Black Friday sales frenzy? The End of Black Friday in France? That's a Big "Absolutement" if French Politicans get their way.
They'll be voting soon on an amendment to end Black Friday in France on the grounds that it causes "resource waste" and "overconsumption."
The amendment essentially equates Black Friday to "aggressive commercial practices" which is punishable by two years imprisonment and a maximum fine of 300,000 euros ($330,000).
Also adding fuel to the ban Black Friday Fire, the French Ecology Minister dumped on France's Black Friday saleathon for creating "traffic jams, pollution and gas emissions."
Not suprisingly, the prospect of No more Black Friday in France gets a big thumbs up from enivronmentalists.
In a show of solidiarty with politicans (a once in a blue moon occurence) the "Friends of the Earth" group blocked the entry to an Amazon warehouse in Northern France with a blanket of broken refigerators, microwaves, and hay.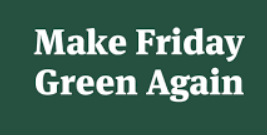 Some stores are already leading their campaign against the commercial event. This month, 600 French brands created an anti-Black Friday collective to "Make Friday Green Again." The movement Youth For Climate is calling for a "Block Friday" demonstration in major French cities.
On the other side of the fence – as you would expect – France's commercial union has called the proposal "ridiculous", saying that it prevents people benefiting from promotions for Christmas shopping.
French Economists fear that the amendment will disproportionately penalize small French businesses since bigger e-commerce companies won't fall under the law. Some suggest it would be better to educate consumers against waste instead of forbidding the commercial practice of Black Friday.
While there are two(or more) sides to every story – The French Politicans rally to ban Black Friday in France has more than a "soupcon" of hypocrisy.
Owning to the fact that "sales" (soldes) occur (minimum) 8 months of the year. Also creating "resource waste, overconsumption" and contributing to "traffic jams, pollution" and gas emissions."
See the Anti-Black Friday Protestors in this video.