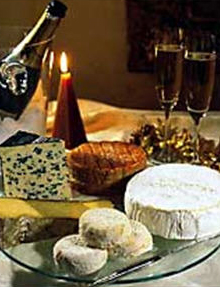 The Bicycle Gourmet has said, many times, that  its debateable whether France is most famous for it's wine, or It's cheeses. But both are absoultely worth discovering.
You can taste cheeses in any of the 7 cities where cheese festivals are held, but the most popular is probably Nice. If you have a taste for the Treasures of France, visit this southern French city for it's wide variety of cheese and the International Bakers Festival.
The festival features a number of different events. You can play cheese and bread games and there are many good ones to choose from. This event is well attended by both locals and tourists, so you it's definitely not just another tourist cliche.
The event hosts numerous stalls that sell cheese from the region and the festival has a number of guest judges as well. You can taste and buy cheeses.
But be aware that there will be a limit to how much you can take home. If you want to take something home, the festival has a dedicated cheese bar. It will not be hard to miss!
In comparison to the other cheese festivals, the Nice festival is quite small. There are a number of stalls that offer cheese samples, and you can taste a variety of cheeses from both Spain and France.
In recent years, some of the cheese samples have contained food coloring. So be sure you ask the producer if their offering is "the real thing."
The main event of the festival is the Bakery Challenge. Bakeries in Nice offer an incredible variety of breads, cakes and mini-desserts. Well worth trying, and always well presented. As you would imagine,this competition is popular with tourists, many of whom come just for this gastronomic event.
And, as you would also suspect, the bakeries offer a multitude of free samples. Perfect for anyone with even a moderately sweet tooth. So- best to arrive as early as possible, to take advantage of those samples before they run out.
This year the festival is in July.Usually one of the hottest summer months. And, be warned – the height of the tourist season. So, if you want to experience the chesse festival and/or bakery competition, you need to accept, you will be "sharing the experience."
Throw Me A Bone Here People!
What are ya thinkin'?