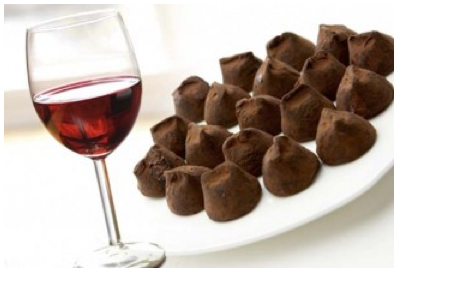 French Chocolate,French Wine and Roussillon may seem, at first glance a little – shall we say "incongrous?" – But stick with DA BG for a momento or two and it'll all add up. (at least by my standard of math !)
Roussillon, as we all know, is (justly) famous for it's orche colored hills. The source of the preferred pigment of that color by artists around the world.
It also produces some wine that is, as an American (or possibly an Armenian) would rate as : "not too shabby."(somewhere below grand cru, but above the supermarket vins du pays plonck.)
French Chocolate, like French Wine (and French food for that matter) while definitely World renowned, does pose an often challenging gustatory dilema (and aren't those the best kind ?) That being –which wine to pare with it ? One strong enough to assert some character, but not so over the top that it cancels out all that creamy, tangy choco-goodness.
Well, happily, there is such a wine. One of the many liquid"
Treasures of France." Sadly, I can't claim the credit for finding it. That kudo goes to my fellow scribbler Nick Passmore….who fills us in on the tasty French Chocolate,Wine and Roussillon connection :
Regular dry table wine just doesn't work because of its acidity, and the sorts of sweet white wines like Sauterne and Tokaj that go so well with fruit desserts don't have the heft to stand up to chocolate.
But there's one recent discovery that does – the Singla, Heritage de Temps 2005 from the often overlooked French region of Roussillon. It's a rare vin doux naturel, VDN, a fortified wine made in a similar way to Port, but using the white grape, Macabeu.
Neutral grape spirit is added to the fermenting wine before all the sugar has been converted to alcohol. The resulting sweet wine is then aged for five years in oak casks giving it its russet color and aromatic flavors.
The result was a revelation and a chocolate-friendly delight. It's packed with dried fruit flavors like raisins and dates, along with figs, gingerbread, salty butter, candied orange and toffee. It's oxidized, deliberately, resulting in a piquant, spicy bite on the finish that's perfect for chocolate.
It performed an harmonious duet with a Moccacino from a great new addition to my neighborhood, the bakery/patisserie Eric Kayser. A chocolate mousse on what I would call a Graham Cracker crust, though no doubt it has a more melliferous sounding name in French, covered in a shell of milk chocolate and topped with ground hazelnuts.
It was the hazelnuts that did it for me – combined with chocolate they set off the complex, nutty, tangy sweetness of the wine to perfection.
Read More at: HERE
THROW ME A BONE HERE,PEOPLE !
What are ya thinkin' ?