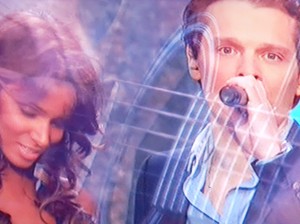 The French Country Life Music Party goes down every June 21st. And, why not? After all it IS the first day of Summer. (Regardless of whether the weather agrees)
It's offical name is : "Le Fete de la Musique." Which translates to "Music Party" in any language, n'est ce pas? "Le Fete" was the brainchild of a Jack Lang. A former Minister of Culture, so "pro-USA" that he insisted on the American spelling of his name.
Atypically, a great idea from someone "in government." One that could not possibly raise objections, threaten political careers, or infringe on the right to libertie, egalitie, and the pursuit of stronger cheese.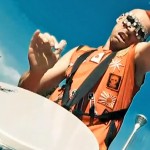 The French Country Life Music Party however, is not , as you may have anticipated, just for country folk. While it's celebrated Nationally, the Country celebrations for me(pun intended) "ring most true" with Mr. Lang's intentions.
Why? Because in the country, although the town/village/hameau(that's "am -oh" – a collection of houses with no bakery, post office or 7-11) may mount an "offical" celebration, it's the grass-roots groove of locals spilling out into the street that is really the essence of "Le Fete de la Musique."
It does what music does best, and is supposed to do. Bring people together. In a positive participatory, and, at it's best, informal and spontaneous way.
That said – there is a "middle-ground" between the grass roots pickin' n' grinnin' and the big city blowout – the BIG French Country Life Music BLOWOUT –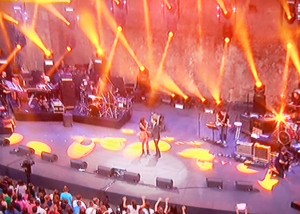 staged in a huge historic chateau(and aren't those the best kind?) or a huge historic city. Preferably one with walls to enclose all the exuberant celebrants.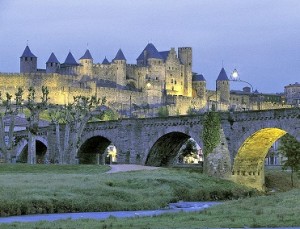 Carcassone,in the SouthWest covers all the bases. First of all, it's huge. Not to mention Historic. It was here, as my scholarly devotees will recall from THIS POST, that several thousand Men, Women and Children with the "wrong" religious ideas were "terminated with extreme prejudice" by God's representative on earth. (uh…that would be…Pope  Innocent 2?) Thus saving them from a life of sin.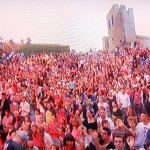 And so it is within these same walls on each June 21st that thousands of (happily) LIVE men, Women and Children writhe and jive to a Houston Astrodome Rock Concert style version of the French Country Life Music Party.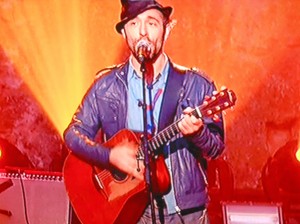 THROW ME A BONE HERE, PEOPLE!
What are ya thinkin'?