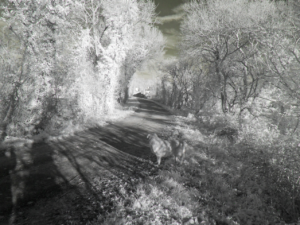 Bicycle Gourmet's French Backroads. Don't own them. But often feel like it. After gliding down them for the past zillion and a half years.
And even after all that time, for Da BG, the Backroads of France never cease to amaze, delight, and provoke no small quantities of wonder and awe.
How could it be otherwise in a country where everything changes every 50 KM. The landscape, the food, the wine, the monuments, the local twist on the language.
One thing that, happily doesn't change, is the genuine warmth and hospitality of the French People. Particularly along the French Country Backroads of "La France Profunde."
These are the "Treasures of France" which, while they are on the map, are attracting few to no tourists. Because their only attraction is silence.(the occasional tractor or herd of cows/sheep on the road notwithstanding.)
Yes, "La France Profunde" is mainly agricultural. A place where you will have no trouble finding "miles and miles of miles." However, finding an ATM will definitely be a challenge.
Likewise bread. Yes, a shocker I know. As we folks from "over there" fantasize there is a boulangerie in every French Village.
Au contraire mon frerè. In "Hamlets" – settlements smaller than a village – bread is delivered to/sold at the local tobacconists. Or whatever other store most locals use.
This – for me – is the beauty of "France in the slow lane." It's never going to change. Because in addition to never being a tourist "attraction" – French law regards virtually every empty field as a "cultural heritage."
Meaning that any enterprising froggie dreaming of turning that acreage into a boutique and swingin' hot spot is definitely S.O.L.
While every region of France has it's own variation of "senic beauty" – that wonderfulness, obviously changes with the seasons.
Plus – in "La France Profunde" – given it's miles and miles of miles – there is not much variation. And virtually no color.
Alors – what better destination on the French Country Backroads for Black and White photography?
And – it just so happens that Da Bg has some. (The Infa-Red Variety)*
Voila! – a little visual taste of the French Country Backroads.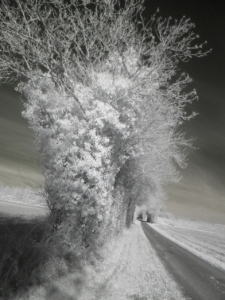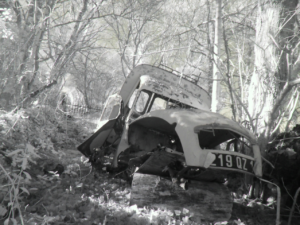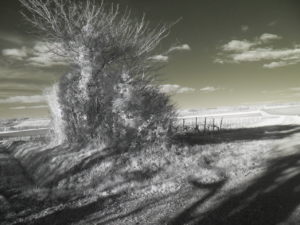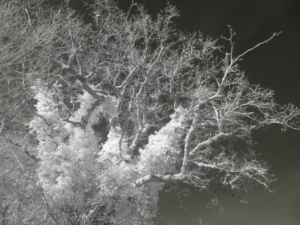 FYI – photo buffs, and/or those who photograph in the buff, these images shot with a Samsung WB500/Schneider 24mm ultra wide lens, converted to IR. No photoshop. All images here directly from the camera.
More of my photo madness at:
http://strongeditions.best
                                                        http://artpix4.me
*infa-red photography – Google it!
Throw Me  Bone Here People!
What are ya Thinkin'?