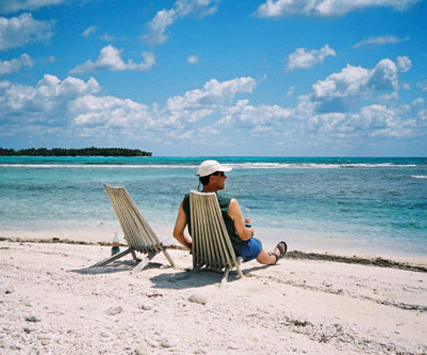 The  French Country Travel Life Vacation  is the one to take. Why? Well, outside of the obvious Treasures of French life (regularly extolled by DA BG) the French, like most Europeans, get six weeks a year of workless fun n' frolic. With medical. With dental. And best of all – with pay!
Hard to get yer head around for us folks from "over there" with our miserable two weeks unpaid-no bennies after two years, innit?
But there is one Frenchman I know who is an exception to the luxurious Holiday rule. He's never  had a day off in thirty years! Not even one day o' bronzin' in the back yard.  Let alone a weekend at the lake.  Thirty years of eighteen hour days 24/7.
Given the regulations of the French social system – what employer you might rightly ask could so brazenly flaunt the law? Year after year. With no fear of retribution?
The answer – in two words – Yves Lacroix. Independant  contractor. Self-employed businessman. Dairy farmer.  An occuption more time, labor and Euro intensive dear reader has yet to be invented.
Not only do you have to coddle the 4 legged milk producers from dawn 'til dusk, but there is the added thrill of regular visits(and bills) from the vet. To prevent/cure all the exotic disease that result from being constantly covered with flies and rolling in the mud.
Why? is the question you're asking yourself now.  Right?  Why thirty years of self-imposed slavery? Simple.  Because at the end of the slavery tunnel there was a light. A golden one. Retirement. Yves Lacroix had his eyes on the prize. Every day. Rain or shine. For thirty years.
And when that day finally arrived – Yves started his work.  The joyous kind. Builidn his dream house.  Weathered stone and old oak beams.  Giant walk in fireplace.  Heirloom furniture.  From the family and old chateaus. Heated, covered swimming pool on the patio.
And best of all, a 180° view of the village, valley and the forest beyond. The perfect place to continue his thirty year honeymoon with his childhood sweetheart.
Then – the law arrived. Murphy's law. You know that one dear reader. Do you not? "If something can go wrong – it will?" What went wrong was his Wife's health. CANCER.
Six months later, Yves was again a bachelor. In a house built for, and by love. Yes, He's got his grandkids and friends galore. He even goes dancing two nights a week. So, Yves isn't putting  his head in the oven just yet. But when he's alone, with the memory of what was and what could/should have been – there is no band-aid for the heart.
The moral of our story dear reader: Treasure your loved ones. savour them. Cherish every second together as if it were your last. Because it could well be.
THROW ME A BONE HERE, PEOPLE
What are ya thinkin'?