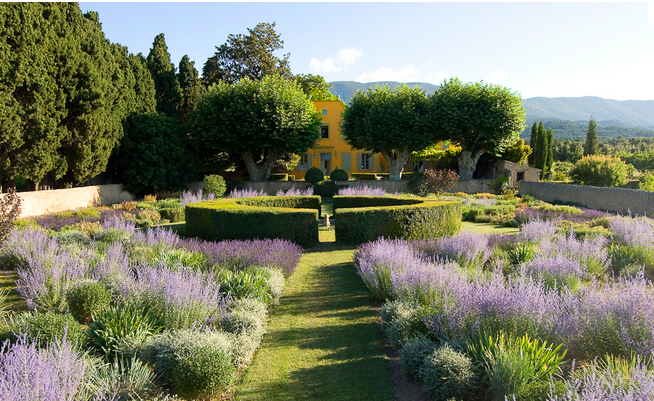 French Country Travel Life Village  Tour – Part Three   may  increase your enjoyment if you first check out  PART ONE  and  PART TWO. (but, hey…if you're a risk taker…..)
When you finally descend the wondering heights of Lacoste, turn right on RN 100, and enjoy the scenery. But not for too long. Because in no less than 5 to 10 driving minutes, you'll be seeing a sign for "Bonnieux." (she being the last of our hilltop stops.)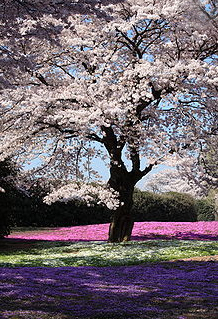 Go slowly along this here byway, and if it's late June or early July, look left and you'll see a half dozen bing cherry trees.  These are "anybody's tree's." As in no designated owner. So, feel free to sample the "fruits of the land." (keeping in mind what too many cherries can do!)
200 or so metres past the trees,  a rustic building partially submerged in greenery will emerge . As you turn right, you'll see it's a classic "in-the-middle-of-nowhere" French Ma and Pa Cafe, Coffee Shop and Dry Cleaners. (Actually, they may not be offering this service anymore. but, hey – never hurts to ask – right?)
Amazingly, I've never eaten there.  Even more amazing considering I lived in the gite exactly next door for a winter. So – now it's your chance. (p.s. the gite is now a private residence.)
Across from the cafe/ancient Gite, a concrete confirmation(and aren't those the best kind?) that kitsch is universal. An old train station  has been converted into mutiple arts n' crafty …dare we call them "boutiques?"  Hey – why not!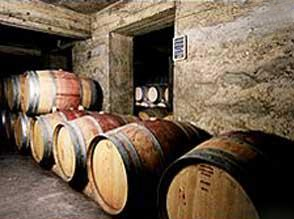 After thrilling to these down home country attractions, it's time to drink in more of the Luberon National Park's wonders. And, happily, this wonder is just down the road.  And you can get a (small) drink there. for FREE! Yes, dear reader, yet another "Cave Co-operative!" She belonging to Bonnieux, where you will next be adventuring.
By now, you,  a cave co-operative veteran of (at least) Coustellet and Lumiere need no instruction, prompting or skill testing questions to know what to do!
After doing what needs to be done and gaining an enhanced appreciation for the Luberon's liquid treasures, the road will, as you have no doubt anticipated, begin to make like yeast.  And soon the village of Bonnieux will be looming medium large ahead.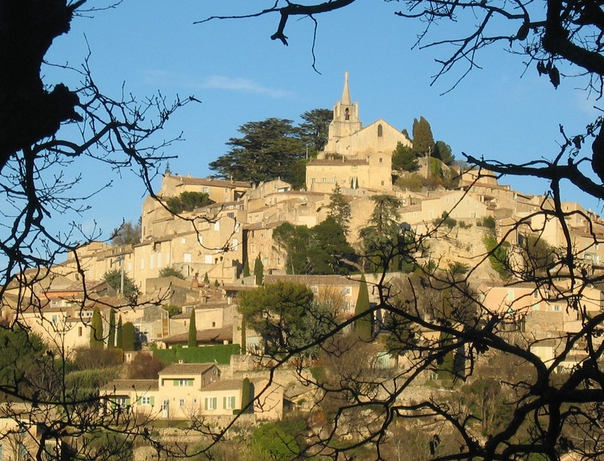 Bonnieux, like it's hilltop cousins "dates back to Roman times." So, if you're inclined to wander about (you are – right?) you'll find no shortage of evidence of the passing of the ancient conquerers. The "lil' B" (pop – about 1500) also sports a cedar forest.  Them thar trees being imported from North Africa during the Napoleonic era.
You'll remember in Part One of this riveting saga I said the  "Gordes is the most celebrated of the hilltop villages." I also promised "more on Gordes later."
OK – now is "later."  First of all, to get there, you'll need to go all the way back to your starting point. – Coustellet. The crossroads village. And at that intersection (there's only one – so no confusion) turn Right.  The road gradually winds upward, through rocky, sagebrushy scenery . The village, which will come into view ahead, and to the right, is definitely "imposing." With a capital "I."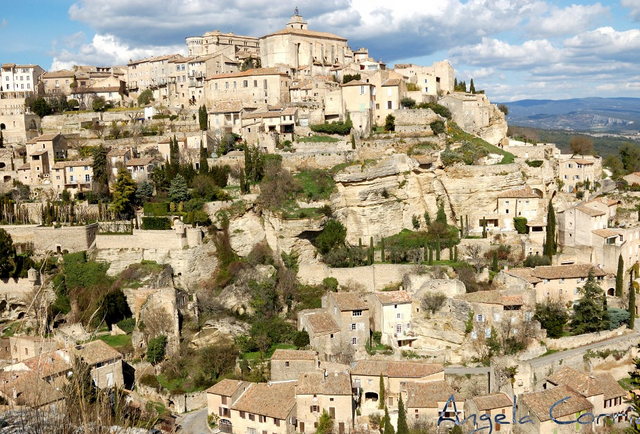 Sadly, due to the fact it's in every "most-beautiful-villages-in-france-you-must-see-or-be-a-total-loser" guidebook, the prices are equally imposing. Unless, of course you're already good with dropping 6 euro ( about $7.80 U.S.) for a postage stamp cuppa joe.
Now, I'm not saying give Gordes a miss. DA BG's  advice is:  1) Visit off-season (middle of May/last week September 2) pack a lunch 3) bring something wonderful from your cave co-operative adventures.
More hilltop villages another time – but this should get you started on your French Country Travel Life Village  Tour – n'est ce pas?
THROW ME A BONE HERE, PEOPLE!
What are ya thinkin'?