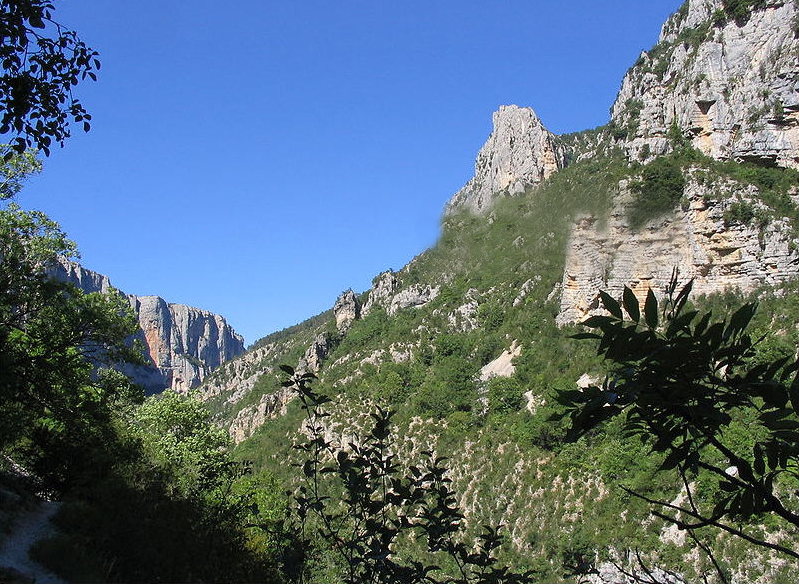 Did you know France has a Grand Canyon? While not as "grand"(BIG)as Colorado's, the "Grand Canyon du Verdon" is definitely a "Treasure of France" to experience.
Let's Saddle Up!
OK – first the facts n' figures stuff. It's 700 m. deep, 21 kms. long, and varies between 6 to 10 m. at the bottom to 200 to 1500 at the rim.
At the Western end, you'll tumble onto the storybook village of Moustiers St. Marie –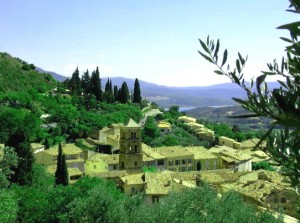 Famous for it's "Faience."(Hand decorated pottery.)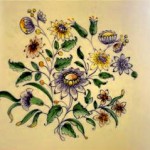 Like it's American cousin, the French Grand Canyon is a dry, dusty(and HOT!) piece o' work. Severely challenged vegetation. A dog's breakfast of rock-hugging scrubs and stunted trees. Scattered over a wild, earth-bound moonscape.
Not a cure for Vertigo
It goes without saying,(which for some lofty literary reason I must say)that the "Gorge(literally "throat") du Verdon" is not the ideal holiday romp for folks who get jelly knees in an elevator. Or have unresolved suicidal issues. It's jus' a llllllong way down!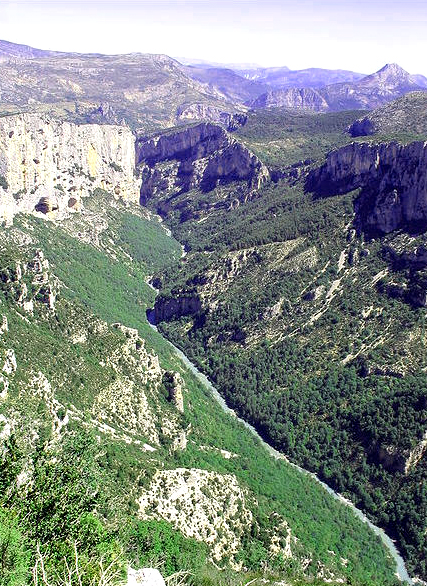 How long, Exactly? Well, who, dear reader, other than pocket protector nerds and anal retentive math professors gives a rat's ass? Will yer holiday really be ruined without knowning how far you need to tumble before becoming "hamburger helper?"
Losers Rush In
As I've warned you(many times!)before, only sick puppies with a death wish would attempt to surf a major French road in Summer. Especially August – when all of the friendly froggies are also on vacation. Particularly on a curvy one lane mountain road. Which, by dint of it's celebrity, must wrestle with two way traffic. That – even for folks from L.A., adds a whole new dimension to the phrase – "traffic jam." Narrow road. Sizzling temperatures. Frustrated drivers. Boiling tempers. ("French Summer Agony! – coming soon to a theatre near you!")
Beege Bites Da Bullet                                                                                                                                                                                                                                                                                                                                                                                                 
Although my gig(as the BG faithful know)is to avoid major roads in allSeasons, by the luck o' the draw, I did wind up dodging "going postal quickly" motorists in 40 degree Canyon temps. These challenging conditions(and stopping for photo opps) meant, even with 27 speeds at my disposal, da BG needed 8 hours to surf  it.
A Hamburger Stand runs through it
As you might expect there is a Hamburger stand/Bar/Cafè/Souvenir stop, but no indication of how/if to descend(slowly,safely) to the canyon floor. But, there must be a way. 'cus the ever observant BG did, in fact, observe a floatilla of "pedalos." (think jet skis, without the jets.) Instead, like a bike, you pedal yer way to water surfin' fun.
The Bottom Line
So, even without the aid of Sherlock Holmes, we may safely conclude(and isn't that the best way?) that the "Grand Canyon du Verdon" has something for everyone. N'est ce pas?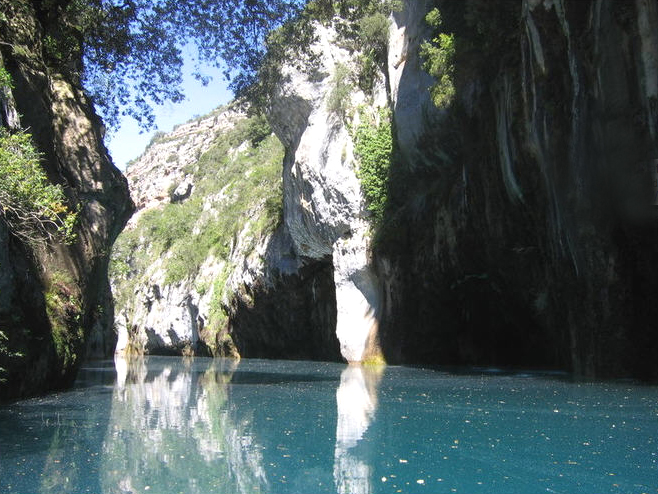 THROW  ME  A  BONE  HERE PEOPLE!
What are ya thinkin'?