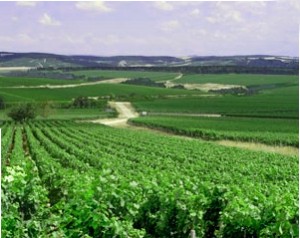 It's not just Aquitane winos that are jumping on the Organic/Bio bandwagon, some French Chablis Winos are going Bio too…
COURGIS, FRANCE —
On a damp Monday morning in March, only the distant rattle of a tractor breaks the silence. A suspicious pair of eyes monitors a visiting car's progress down the Grande Rue Nicolas Droin; in these parts, even the dogs can pick out Paris license plates.
But Courgis (population 260) is home to two of the most forward-thinking producers of Chablis, whose vineyards surround Courgis and several neighboring villages. Thomas Pico, of Domaine Pattes Loup, and Alice and Olivier de Moor, of their eponymous winery, are making Chablis of startling quality, using natural, ecologically friendly methods that many of their peers long ago abandoned.
Innovation is not always good for wine, especially when vineyard work is replaced with laboratory science. This is what happened during an earlier leap forward in Chablis, in the second half of the previous century.
From 1945, when there were less than 500 hectares of Chablis vines, the vineyard area expanded tenfold by the end of the century. Growth was fueled by demand in export markets, where the name of Chablis, like that of its near neighbor Champagne, became a catch-all term — in this case for dry white wine of any origin.
Trade agreements and legal action have mostly ended these practices, though it is still possible to stumble across absurdities like "California Blush Chablis." Talk about fake wine.
Yet some of the damage to the image and the terroir of Chablis was self-inflicted. In order to meet international demand, the growers embraced the use of herbicides, pesticides and grape-picking machines with a fervor rarely seen in other French wine regions. Production soared but quality often suffered.
"In my grandparents' time everyone harvested by hand," Mr. Pico said. "Now everyone finishes at five and is in front of the television by eight. A way of life has disappeared."
Not entirely. Chablis is home to another pair of producers, Jean-Marie Raveneau and Vincent Dauvissat, who have long been critics' favorites. Their wines are old-school icons, but unless you have considerable patience you might struggle to understand what the fuss is about — or even to find them.
More consistently appealing, I think, are the wines of another long-established Chablis estate, William Fèvre. This is perhaps the greatest landowner in Chablis, with vines in all seven of the appellation's grand-cru vineyards. Tasting Fèvre's Les Clos from a good year is a memorable experience.
Chablis can do the classics. What it seemed to lack until recently, however, was a certain type of hip new producer, like those who have reinvigorated other French wine regions, among them the Loire Valley, the Rhône Valley and the heartland of Burgundy — the Côte de Nuits and the Côte de Beaune, about an hour's drive south of Chablis. In these areas, upstarts or outsiders have been making wine that sometimes challenges the powers that be and prompts everyone to question long-held assumptions.
Enter Mr. Pico and the de Moors. Along with a few other up-and-coming producers based elsewhere in the region, including Patrick Piuze, a French-Canadian, and several outfits with local roots, including Domaines Oudin, Domaine Servin and Gilbert Picq, they have brought a fresh spirit to Chablis.
Mr. Pico is not exactly an outsider; his father, too, is a vigneron. After studying oenology and working with producers in the Côte de Beaune, he decided to set up a separate winemaking operation, using some of the vineyards from the family estate. His first vintage was 2006.
Mr. Pico switched to organic cultivation, then went a step further with the application of biodynamic principles, under which growers try to create a healthy ecosystem for the vines — helping them to help themselves. He harvests by hand, which is still an anomaly in Chablis.
"I could earn a lot more money if I did mechanical harvesting, if I used pesticides and herbicides," Mr. Pico said. "I could even take a vacation. But I like my work."
Reprinted from the New York Times. The rest of the story is CONTINUED HERE
EPILOGUE
The Chablis Vignerons are just one example of the current renaissance in French Wines. Which, in it's simplest form, is a return to the natural pesticide free methods of their Grandfathers.
THROW ME A BONE HERE, PEOPLE!
What are ya thinkin'?