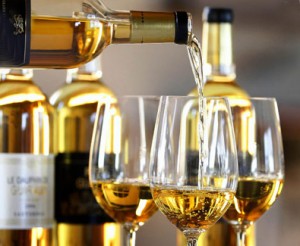 Yes, I know – "Top French Wine Goes Bio" is not a new headline. Biodynamic Viticulture , at least in the context of a "Top Wine" has been on the scene at least since 1984 when Nicolas Joly converted his Coulee de Serrant holding to biodynamic principles.
What IS news is that  Chateau Guiraud, a producer of Sauternes Grand Cru's has just been awarded Bio-Dynamic certification . The first of the Bordeaux regions Sauternes to be so awarded.
But the allocades didn't come overnight. (suprise, suprise!) The long road that led to recognition of Chateau Guiraund's biodynamic excellence began more than 15 years ago when vigneron Xavier Planty(now is that a great last name for a winegrower or what?) disgusted with chemically based viticulture decided to experiment with organic growing.
One of the major catalysts for this decision was the death of a close friend two years earlier. A vignernon who had spent his entire life working in the fields with chemicals. He died of cancer.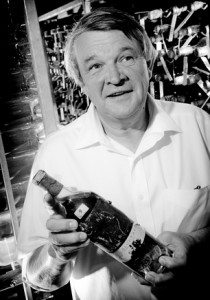 With the advice of an agricultral engineer, and more setbacks than victories, Xavier Planty perserved. And with the consistent philosophy of treating the soil with respect – not chemicals the transformation continued.
"Biodynamics" – a concept of life force energy and balances, originated from Austrian philosopher Rudolph Steiner. It was his writings, in particular that inspired Nicolas Joly to "go Bio."
However, since then, although Biodynamics involves precise actions with specific organic materials at equally specific times – such as planting by Moon phases and the application of diluted animal manures – every chemical free French farmer (wine or otherwise) proudly describe their produce as "Bio."
Bottom Line: Not clear on the concept!
Although it's the first Bordeaux Grand Cru to be biodynamically certified, Chateau Guiraund was beaten to the Winey punch by a Saint Emilion Grand Cru – Chateau Fonroque – that received the biodynamic baptisim in 2006.
In addition to the enhanced quality of his Wine, the complete elimination of pesticides (since 2004) and the relative ease of disease control (mildew be gone!) – Xavier Planty delights in the resurgence of insect life resulting from the rejuvinated soil.
For example, most conventional (chemically based) vineyards have fewer than 200 varities of insects. The latest Chateau Guiraund insect census revealed no less than 635 different varities.
To continue this biodiversity – allowing more insects to florish and feed on vineyard pests – Planty has established 3.7 miles (6KM) of hedges on his property.
While Planty's certification will most certainly inspire other vignerons to "go bio", the Aquatine region has some catching up to do in the Bio Wine sweepstakes. it's currently number 3. Behind the leaders, Languedoc-Roussillon and Provence-Alps-Cote-D'azur.
THROW ME A BONE HERE, PEOPLE!
What are ya thinkin'?