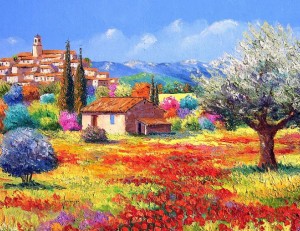 There are many reasons to visit France. All of them good. Most of them obvious. Wine. Gourmet food. Rich History. Incredible scenery. Varied climate. Laid back lifestyle. (In the countryside, bien sur!)
Not the least among the magnetic attractions of "la Belle France" are it's artists. Yes, I know you're familiar with all the big names. Monet, Gaughin, Renoir, Degas,Manet. And, even though they were'nt French – Picasso and Van Gogh.
But the tradition those greats birthed, has contined to inspire generations of French Artists. (My definition of "French Artist" is "Any artist living in France") At all levels.
National, regional and local. For me (as you might have guessed) it's the local variety of painters, sculptors and crafty types that generate the strongest appeal. For the same reason  that I gravitate toward local wines, as opposed to the big names. The thrill of  DISCOVERY.
The unadultered pleasure (and isn't that the best kind?) of having your senses happily and unexpectedly energized. And that same thrill is available to you when you surf the French Countryside.
There, in villages of every size, you'll find artists as ubiquitious as vines. And with as many different "tastes."  For the atmosphere of every village, it's unique and particular appeal, is a combination of elements. The landscape. The people. The climate. And, of course, their lifestyle.
To rephrase the popular adage about the French "living to eat" not "eating to live", if you're lucky (and smart) enough to slowly, deliberately, and appreciatively inhale the atmosphere of a French Country Village, you may just think that their lifestyle is an art. And that art is their lifestyle.
THROW ME A BONE HERE, PEOPLE!
What are ya thinkin'?