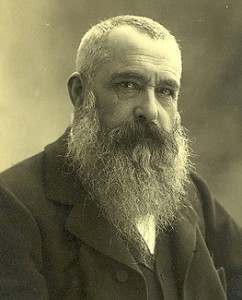 As I detailed in THIS PREVIOUS POST, the "lion", the "main man", the "Big Kahuna" of French Impressionism was, of course Claude Monet.
Virtually the only one of the impressionists to enjoy in his lifetime the two things all artists seek. But rarely attain. Fame and Fortune. Claude had 'em both. While the majority of the others were begging each other to buy a landscape to pay the rent.
But, as they say here, c'est la vie. That's the life. Some get cream in their coffee, some get powdered milk.
But unlike some pathetic losers who regularly enjoy their cream, Monet deserved every ounce of his considerable fame. He changed the preception of his art form. And left an enduring legacy that continues to inspire. Particularly, and naturally, those who follow in his brush strokes.
And since his garden at Giverny, the continuing inspiration for much of his life is now riotessly in bloom(and isn't that the best way?) I thought you might enjoy a  few images from my previous visits there.
THROW ME A BONE HERE, PEOPLE!
What are ya thinkin'?