I was'nt expecting a view of the Marquis de Sade's chateau from my terrace. But then, his neighbours were'nt expecting someone who would violate community standards by violating the community!
No Expectations
What I was hoping for,(not expecting) , was a quiet WARM refuge for the Winter. To continue these scribbles, and work on "The Film." What was to eventually morph into "Bicycle Gourmet's Treasures of France."
BG Scores
Once again, luckier than smart, I met a Dutch Woman who was ga-ga for "The Arts," and had a vacant gite. So, as she was terminal "arts n' crafts", and I was a terminal artist – the die was quickly cast.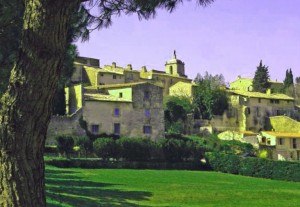 This, dear reader, was a big score. For a number of reasons. Within the Luberon National Park(ie -heart of provence, but minus the "action") off road, wild(as in untended Cherry trees(Bings, I might add) left, right, and center –  equally wild, and plentiful salad goodies on and around my "atelier", one of the best caves in the region, 100 metres away, and ringed by  hilltop villages.
Beauty and Dissapointment
Bonnieux, to the left(and UP, bien sur), Gordes, (further left and equally up) Lacoste (Former home of the Marquis (behind.) Sadly, like so many things in life that are exquisitely beautiful at a distance, (often at night) the Marquis' "tough love" palace(in daylight) was a dogs breakfast of authentically old, inauthentically "enchanced." Exuding all the charm of a burnt brick.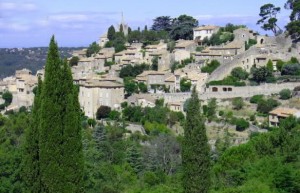 Lacostes' major claim to(provencal, at least) fame – is an annual Summer Classical Music festival presented by Pierre"designing is my drug" Cardin. Otherwise, it's yer basic ancient, hilltop village with a view of the Luberon plains.  Curiously, tucked into it's moldy chic-ness is a Frence outpost of the Savannah(as in Georgia,USA) College of Art. (And you thought French people had an accent!)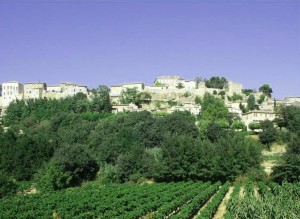 The village of Menerbes(past Lacoste, heading toward Cavaillon) has long been a classic hang-out for artists, renegades and other assorted deadbeats without a real job.Peter Mayles, the noted English scribbler was in residence there, until he pissed off the locals by making them the butt of his literary humor, and was forced to shift to Lourmarin. On the other side of the Mountain.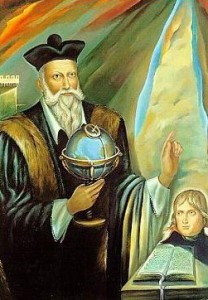 Waaaaay back….when he was looking into his crystal ball,(and when was he not?) Nostradamus proclaimed : "Menerbes floats on a sea of vines."Menerbes has only one main street, and severely limited parking. works for me. Howsabout you?
THROW  ME  A  BONE  HERE  PEOPLE!
What are ya thinkin?