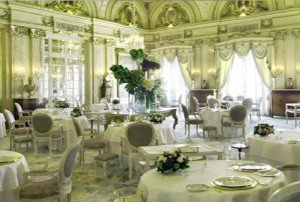 Irish Gourmet Chows Down In France. Yes, dear reader, a shocking headline to say the least. What connection you may well ask does Irish food have with anything gourmet?
The short, and honest answer, is, bien sur, none. But since my last post dealt with an Irishman's contribution to the French Cognac industy, I thought it might be groovy, fab, far out, wild, weird, wacky, gear, cool, sweet, and maybe even instructive to share the ramblings of an Irish Resturant reviewer chowing down in France.
A gentlemen with the very un-Irish name of Paolo Tullio.
His gastromic ramblings appeared in – (what else?) – The Irish Edition of the UK 's Independant:
"As an Irish restaurant reviewer, getting to eat in great French restaurants is important for me, as these are the restaurants that set world standards.
It's a way for me to calibrate my palate, so that I have a touchstone for judging meals here. It's hugely expensive, but as an occasional exercise it can be excused.
We started our three-day odyssey with a meal in one of the great French restaurants, Le Louis XV in Monaco. This is Alain Ducasse's flagship restaurant and is the holder of three Michelin stars.
It's in the Hotel de Paris, which is opposite Monte Carlo's famous casino. It's probably true to say that this little corner of Monaco is the most architecturally pleasing part of this tiny state.
Turn right after entering the ornate, Baroque lobby of the hotel and you find the entrance to Le Louis XV. It's a huge dining room, perhaps 30ft high, decorated with vast amounts of gilt.
Huge pilasters faced in banded agate and topped in Ionic capitols line the walls, Baccarat chandeliers and sconces light the room,
Arcadian murals delight the eye and a small army of waiters dance attendance.
The first thing you notice, other than the splendour of the room, is the immaculate tailoring of the waiters' suits, making your own look like a poor man's hand-me-down.
A vast epergne, perhaps three-metres high, dominates the middle of the room, serving as a centrepiece and a rallying point for the trolleys. There are a lot of trolleys, all built as though to last for centuries, made out of mahogany and brass.
The first one you meet is the bread trolley, which resembles a bakery shop on wheels. There are maybe 20 different breads to choose from in a bewildering variety of shapes and grains.
Not being the host, I got a guest menu — that's one with no prices — but I know that most dishes cost about €90.
With the menus came the champagne trolley, which offered a large choice of champagnes by the glass to start the meal. My two pals had a glass each, one of the Bollinger Grande Annee 2002, and one of the Taittinger rosé 2004.
From the menu we chose the Provençal starter plate, scallops, and truffle gnocchi for starters, and then my friends ordered the duck — which is a dish for two — while I ordered the Pyrenean lamb.
For our wines we ordered the Chateau de Bellet, which is a red wine made near Nice, and a Bandol, Chateau Pibarnon, a crisp white made from the Rolle grape, known in Italy as the Vermentino.
I won't describe the food in detail, but I will say that each dish was consummately well done.
They weren't mean with the truffles, either — a waiter grated an entire black truffle on to my dish of gnocchi.
I liked the way the duck was served for the main course. It arrived in a covered marmite and it was deftly dismembered at the table by the waiter, who then served the breast and took away the legs, as they do in the Tour d'Argent, only to return with them a little while later de-boned and served in a small ramekin.
We didn't have a dessert, just a little cheese, which also came on a trolley. It wasn't the last trolley, either, as we also wanted one camomile and sage tea.
There's another trolley that looks like a shrubbery on wheels, where maybe 30 different herbs are stacked in pots. The tea is made at the table, snipping the relevant herbs into a teapot and then adding the boiling water.
The closest we got to a dessert was dessert wine — a glass of Sauternes 2001 and a glass of Malvasia di Lipari 2006, a wine I last had on the island of Lipari itself."
Bottom Line : Anyone can rise to Gourmetdom when presented with the right grub.
Thrill to more of Mr. Tullio's gastronomic adventures HERE.
THROW ME A BONE HERE, PEOPLE!
What are ya thinkin'?