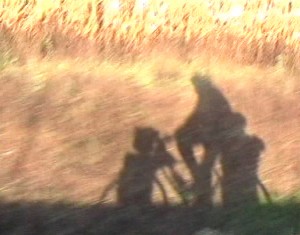 The French Cycling Gourmet. That's how the world knows me. My (severely limited) claim to fame.(Have I had more than my 15 minutes yet?)

That's the label sewn into my life's tee-shirt. Not by my Mom,bien sur,but the World at large.(You know,the BIG World?) It's a label I don't shun. Nor does it change my hat size.(Not wearing a hat also helps!) Obviously,I did'nt choose it. Like Mr. Darwin's theory – it jus' evolved.
No more foggy Cable Cars…
It all started when I decided to leave San Francisco. Not a difficult decision. It was(as always) the doing that was the hard part. Hard because San Francisco was,and is,one of the best places on the planet.
Smack dab on the Pacific. Liberal. Cosmopolitian, but not snobby. Ab/fab everything! Art. Music. Cinema.Restuarants.Parks.Museums. Plus the Marin Headlands, more glorious remoteness.A quickhop over the Golden Gate.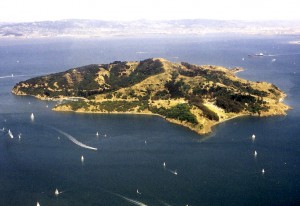 Angel Island,off Saulsalito. A freakin' National park! Ok – that's enough of the tourist office rant. You're getting my drift, dear reader,are you not?
Are you being served?
And in this super planetary location – I was livin' large. Not expensively. But richly.Good health.Good Friends.Good business. No debts!(Rare in the land of "how fast can you max your credit cards?")But there was a tiny grain of sand in the gears of my otherwise perfect life. A grain called "regularity." Not boredom,mind you,but a regular round of the same places,people,clients and scenery. Ya-vol it was great mine- hair – but it was also a personal "glass ceiling."One that prevented any useable degree of spontaneity from breaking through.
Breaking Away…
So, in order to open the door to the possibility of that spontaneity, I had to close the door of happy,successful,(and,yes, bourgoise) film-maker. And leave the comfort zone for a zone unknown. Since I've always been a cyclist("Born on a push bike",as the Dutch say) there was no mystery as to my mode of travel. Ergo – after dropping off the key to get myself free, I bought the bike o' my dreams,and fastened the seatbelt for the flight to adventure.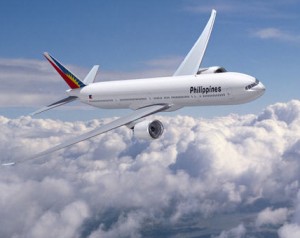 Living the Dream…
And by gosh,by golly,you betcha – adventure I did find! Gliding down dappled country lanes with,to quote Mr. Berry – "no particular place to go'" – spontaneity was assured.Which,in turn introduced me to the good,the better and the best of French Country Life .My experiencees with "the locals" were consistently 99% positive. They did'nt know me from a hole in the ground. And in spite of,and perhaps,because of that,they invited me into their homes and hearts.
I shared their food and wine. Hopes and Dreams.Joys and sorrows. In an embrace of humanity and genuine hospitality. Which gave me,obviously,a deep understanding of,and appreciation for,French Country Life. An incredibly rich personal experience,bien sur. Causing my film-maker half to ponder – 'How can I convey this rich personal experience on film – without giving birth to another mind-numbing"go here-see this-eat that" documentary?"
A Concept is Born…
My original idea was to have a sauve, English speaking Frenchman – "Monsieur Gourmet" – invite three couples(each with different lifestyles)for dinner.Their stories,then would be the center of the film. My short list of candidates for the role of "Monsieur Gourmet" was very short. Two words,in fact. Yves.Montand.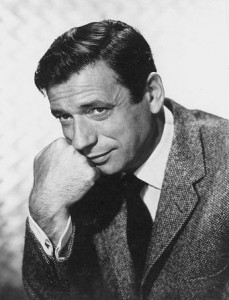 Fortunately for the film-maker from the far away lands,Yves,at this time,was alive,well,and nearby. In the trendy hilltop village of Saint Paul de Vence. Where he was a silent partner in the equally trendy Auberge – "Le Columbe D'Or."
Stalkin' the Star…
The "Golden Dove"has long been a favorite grazing/drinking stop for artists. It was here that various deadbeats,renegades and unemployables like Picasso and Chagall installed themselves for as long as possible, eating and drinking as much as possible.Then,leaving the proprietors with dirty dishes,empty bottles and a painting.
Across from the Columbe D'or,on the hard dusty dirt of the village square,men to whom fifty is a fond memory of youth play Petanque,or "Boules."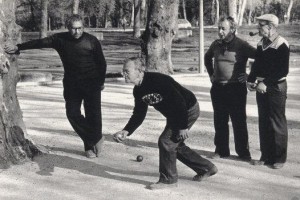 This is a male "escape game"(like fishing) that involves rolling palm sized steel balls into one another. Think lawn bowling. Without the lawn or the pins.
On the other side of the square is the inevitable bar/café.Where you can sip your pastis and watch it all go by. That's what Yves was doing when we arrived. We, being yours unruly and my pal Capt'n Bob. Part time chiropractor,full-time sailor,and all round charmer. He was the silver tongued devil who smoozed Yves agent. And, viola! Here we were.
No Sweaty Palms…
Breaking the ice was not a problem. Yves did it for us. "All they offer me  lately are these………police films" he scowled. "Your film isn't a 'shoot 'em up, I hope?' " "More of a 'drink 'em up "was Bob's instant reply."Excellent" Yves shot back. Then – gesturing to his pastis with a smile –"As you can see – I'm a natural!"
And indeed he was. Yves had it all down. In spades. He was the classicexample of the true professional. One whose craft is so well honed and internalized, it works it's wonders on autopilot.
My Ace in Control…
Fortunately for the soon-to-be- French –Cycling- Gourmet, I also had a"natural" in my corner. One who spoke perfect French. Thus embellishing and improving my totally improvised " presentation."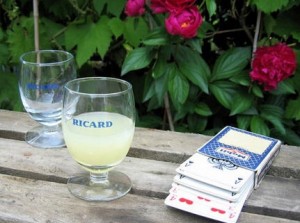 As the two natural charmers continued to bond, and the pastis continued to flow,bien sur, connecting the dots became much more, dare I say–natural?"
The Payoff…
After an hour or so of collaborative creativity,Yves leaned forward and intoned in his sincerest(natural) baritone : "You have a very interesting project. And I hope we can work together." Of course, we never saw him again. His agent's kiss-off letter was the usual blah-blah. Except for the last line : Mr. Montand was very impressed with your presentation."
(Hey – were we naturals? – or what!?)
Bouyed,not torpedoed by Yves' agents' lack of imagination/good taste, it became apparent that I, exotic stranger from the far away lands,was destined to morph into "Monsieur Gourmet." And, since I would be traveling by bicycle………Thus was the French Cycling Gourmet born.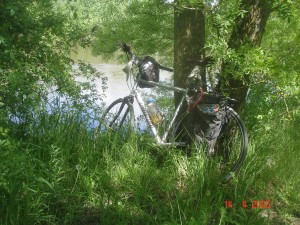 .
Fancy a tour like this one?