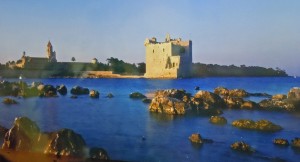 The monks on the island of Ste. Honorat claim that Holy mumbo jumbo has prevailed there for 1600 years. An easy claim to make that not even the superior security forces of the city of Cannes can hope to verify. However ,the numerous ruined chapels scattered throughout the tiny isle lend some "concete" support to the Holy Bros. rant.
Nominally alined with the Cistercienne Borotherhoood, the Honorat Holies have a rare and unusual lineage. Legend has the sects's beginnings in the Middle Ages. That period of History before the invention of the mobile phone.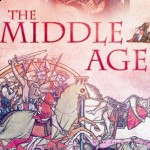 It was also an epoch devasted  by the bubonic Plague TWICE in 100 years. The obvious result: Many people ascended (they hoped) to heaven. Others, we must assume, to more subterranean destinations.
BOTTOM LINE : Thousands of abandoned children and babies. Who to care for them? You're ahead of me again, are you not? Yes – the "Holy" orders. Nuns, Monks, and Orphanages in search of tax deductions.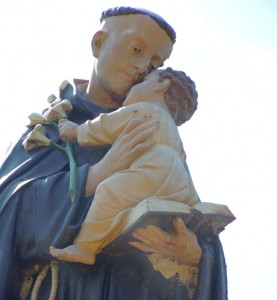 The particular challenge for the Holy Brothers of Ste. Honorat – other than the fact that babies don't thrive on bread, wine and prayer, was the obvious one: No Diapers! Enter Brother Manus –  Keeper of the Manuscripts.
Manus and his Holy team had produced an abundance of bibles. Far more than needed to spread the Holy word on Ste.Honorat. Thus was born : "The Most Holy Order of The Baby Bottom Bible Wipers."
OK – IT'S A JOKE! – but if you believed even half of one line of that squirrel dookie – I want your name and address so I can sell you a condo on Mars!
The primary occupation of the Ste. Honorati bros.(other than Holiness, bien sur) is the one monks have engaged in before Jesus was even a twinkle in the eye of the Holy Ghost – MAKIN' BOOZE! And, refreshingly (pun intended) not the usual fermented honey, secret herbs n' spices hootch.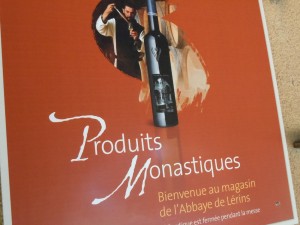 No Sir! The Honorati offer up a selection of full bodied wine. At equally full bodied prices.(32 euro and rising) The rationale for these price points being the petite plot available on which to produce their liquid treasures.
As you would expect, in addition to their pricy grog, the Holy Bros.regale you with a selection of sacred (paid) souvenirs. Their chant CD, various honeys, herbs, and other local goodies. And, as long as you have your wallet open – they DO accept "donations."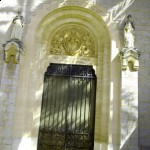 It would be correct to say that the Monks "own this town", except for one thing. There IS no town. Just the present modern (as in "has electricty and indoor toilets") monastery, the ancient fortified one, jutting proudly into the blue Med, and a flora and fauna sheltered resturant. Didn't sample the grub. Associated with the Monastic dynasty? Hmmmmm?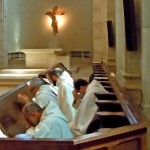 Although it is the essence of sublime,cool, groovy and  just plain ZEN to be present as the Holy ones, foreheads  glued to their lecturns drone on in Latin (p.s. – their chanting is fab!)- a much mo' beddah experience for me is the fortified Holy Palace by the sea.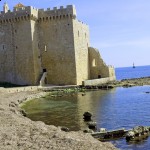 Not only is it free and are you free to wander through it's 4 or so floors(I stopped counted after 3) – but at the top there is a (NOT modern –  Glory Gee to Beesus!) "Observation deck." Where you can chill in an equally free plastic or wooden chair. Hyptonized by the deep blue Med. and catch a few rays.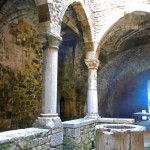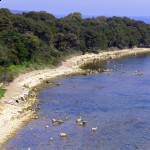 Much smaller than it's sister isle – Ste. Marguerite – Ste. Honorat sadly lacks the long and comfortable beach access of it's nearby sister. When you step off the "round the island trail" – it's onto rocks which dead end into the sea.
BOTTOM LINE : Only bring a book and a bikini if rock lounging floats yer boat.
Being smaller than Ste. Margeurite, and with fewer "attractions" means that Ste.Honorat, in any season, remains the least visited of the two islands. However, in high Summer that means nada. But then, you'd go in LOW season, like DA BG – would you not?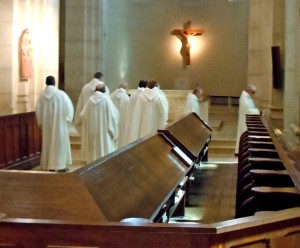 More Ste. Honorat info HERE.
Anything else I can help with?
THROW ME A BONE HERE, PEOPLE!
What are ya thinkin'?