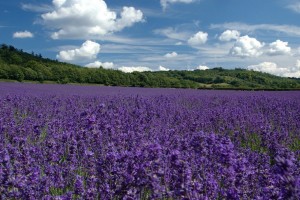 It will be obvious to my more sophisticated readers ("The Buttheads") that it's impossible for someone without deep pockets cycling fifty kms plus a day,  four to five months a year to drop thirty euros or so per day for grub and a bed.  So – How do I do it?  Simple.  I gots FAITH.  Faith in the generousity of the Human spirit.  Faith in the goddi of adventure. Faith that each night, I will find someone who'll say: "Wow – What a great adventure! Come on in and tell us all about it….but first…I'll show you your room. Then take a shower and relax."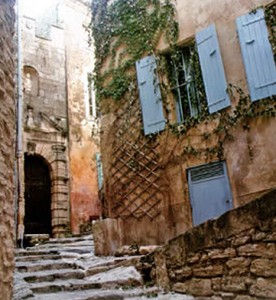 It's that simple,dear reader."People will always be kind."(Clare Booth Luce, I believe. But don't quote me.) And each day is different. Which is the core of the adventure. Sometimes it's the first door you knock on. Other times, forty doors plus. The longest(so far) seven hours of continuous sore knuckles in a picture postcard village where everyone who could'nt help,  loaded me up with all manner o' grub. When I finally connected with my hosts,  they turned out to be a French-American couple with two bi-lingual teenage sons, who were both musicians.(There is a dog!)
And do I always find a warm welcome?  Uh..well never say never – but so far – so good. And what if I don't find someone on my wavelength?  That thought never enters my mind. Because(you're ahead of me again, dear reader, are'nt you?) I've got FAITH! Faith is a certainty BEYOND belief. That unlike belief, requires no proof.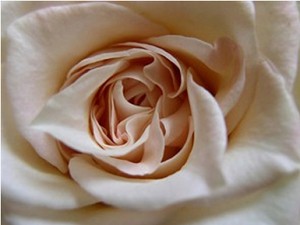 Belief is only necessary for doubtful truths. No one with a full load asks: "Do you believe in  roses?" Because roses are an experiential truth. We can see/smell/touch(and if we're really hungry, eat)'em. So, what's to "believe?" Ah, but "God", flying saucers the "law" of attraction, they require belief. Which is literally a way of saying you wish those things to be.
Our word "belief" comes from two Anglo-Saxon words "To be" and "lief" – meaning "wish." So when people say: "I believe in God" – they're only saying : "I wish God to be." Cleary –  a fairy tale – by any reasonable definition. Made even more ridiculous by those who profess to "believe" in God, then search for "miracles" to confirm their fairy tale. Thus making a mockery of the entire concept!  Which is why for true "believers" everything – good/bad/indifferent that touches their lives is "a sign" from da almighty.
"It's not for us to know my son."  "He works in mysterious ways, his wonders to perform", etc. You're getting my drift dear reader, are you not?  Faith and Belief.  Apples 'n Oranges.  Oil 'n water.  No similiarity.  No relation.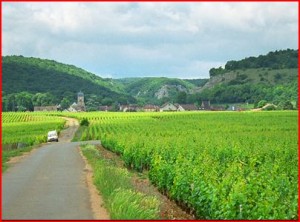 My "Travelling by faith" began on my first trip to France. Sixty dollar second hand bike.  No camcorder.  No intention of making a film. Everywhere I received an open and generous welcome. A natural and warm invitation and initiation to another Culture.  Another way of life. It was this welcome, and the way it was offered, that germinated the seed that was to become "Bicycle Gourmet's Treasures of France."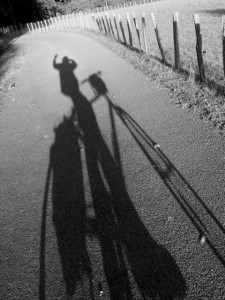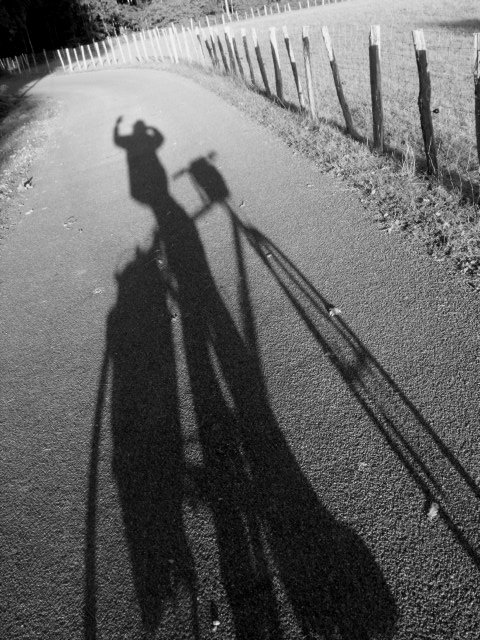 It was, and is my intention, to share within the limitations of words and pictures,  the personal riches I've been fortnuate enough to amass in my travels.  My hope is that you may be able to "taste" the spirit of my adventure and apply it to yours. Regardless of whether or not a bicycle is involved.
BOTTOM  LINE : When you sail out on the sea of adventure,  the only GPS you need  –  is faith.
THROW  ME  A BONE  HERE, PEOPLE!
What are ya thinkin'?