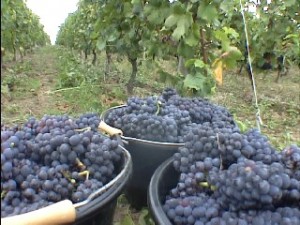 In my LAST POST, and the PREVIOUS ONE, the subject was French Biodynamic Wine. And so, as I seem to be(unintentionally) "on a roll" – this time around its the French Bio Wine Film Story.
And it's about time. We hear and read much about the growing transformation of more and more French vineyards to the gospel of Bio. Good start. But to get the "natural be better" message out to the public at large – what better way than a film? Preferably one BY a French Wino.
Guillaume(that's plain ole "Bill" in English)Bodin is that Wino. Although not(as far as I know) a practising winemaker, the young (25 years and counting) Mr. Bodin was reared in and around the vines.
His desire to give a wider voice to Biodynamic methods resulted in his Citizen Kane – "Wine – The Green Revolution". (Coming soon to a theatre near you!)
The energetic M. Bodin(and how can you be otherwise at 25?) completely financed the shooting of the film. And, though I can't say definitively, it appears He was also cameraman, sound technican, grip and tea boy. (Been there Done that. Got the tee-shirt!)
Having won awards at several film festivals( the excited states included) "Wine – The Green Revolution" has a good chance of showing up on your local screen anytime now.
Until then, here's the trailer:
THROW ME A BONE HERE, PEOPLE!
What are ya thinkin'?