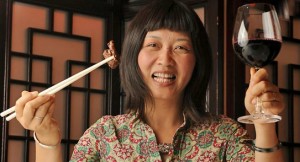 French Wine Courtesy Of China. What, China is giving the World French Wine? Close, but no cigar. China is giving the World the opportunity to BUY the less expensive big name French Wines. How? Why? – Because it's slurping up all the expensive ones.
This has put the (ever so subtle) pressure on the grand French Chateaus to keep their quality high for what in bordeaux they call the "second wine."
The San Francisco Chronicle's Michael Epstein has the liquid details:
"Today they must be good because they are a true and authentic introduction to the estate," says John Kolasa, managing director at both Château Rauzan-Ségla in Margaux and Château Canon in St. Emilion. "Your name is on the label."
Historically, most second wines from the Médoc were sold in French supermarkets, according to Emmanuel Cruse, owner of Château d'Issan in Margaux, and few producers cared about their quality. Only a rare chateau would make a third wine; Latour, for example, introduced its third wine, labeled simply Pauillac, in 1990 to enhance the quality of its second wine, Les Forts de Latour.
But over the last decade, as the prices of the standard-bearer wines escalated, in large part due to demand from China, producers realized there was real money in promoting their second wines. The notion of sloppy seconds has vanished.
"Ten years ago, there were perhaps five to 10 (second wines) that merited attention. Now there are scores of them," notes Christopher Shipley, former sommelier at the 21 Club in New York and currently U.S. sales director for Joanne, a large importer of Bordeaux.
The numbers are one reason why chateaus are smiling. At third-growth Chateau Palmer, annual production of its top wine fell from 15,000 to 20,000 cases to about 10,000 cases since the winery's 1998 introduction of a second wine, Alter Ego de Palmer. But not only did the quality of the grand vin increase enormously – so did the price, from about $80 a bottle upon release for the 1996 to $350 for the 2009. The 2009 Alter Ego – about 6,000 cases – sells for $80 a bottle.
Although it's not clear which chateau made the first second wine, the concept became entrenched when Chateau Latour introduced its second wine with the 1966 vintage. Now, most properties in the Médoc, Pessac-Léognan, on the Right Bank and even in Sauternes, make one.
Typically, second wines are made from younger vines or parts of an estate that historically made inferior wine. Young vines, which for Cruse are less than 18 years old, can make good wine. But, he points out, they can be inconsistent.
Initially, Bordeaux vintners made these seconds to bolster the quality of the first wine – in large part to win the race for critics' scores and also to protect a chateau's reputation. But Rauzan-Ségla, unhappy with its 1987 vintage, bottled its entire crop under its then second label, Château Lamouroux. (Today, Ségla is the label for their second wine.)
Choosing only the very best for top wines has become a virtual necessity as prices have spiraled.
"Selection is the key for making good wine," says Marcel Ducasse, who before his retirement was largely responsible for the dramatic 1980s turnaround at St. Julien third-growth Chateau Lagrange.
When Ducasse took over at Lagrange, everything from the harvest, including press wine, went into the blend for just one wine. It was, he says, a "fosse commune" – everyone in the same grave.
Now, Lagrange makes at least three and sometimes four wines, with the grand vin representing less than half of total production. Its second wine, Les Fiefs de Lagrange, plus bulk wine and other discarded lots, comprise the other half. While improvements in the vineyard can take a decade, Ducasse points out, selection can improve a wine overnight."
Bottom Line :  Will the Chinese become more influential than Robert Parker?
Read more HERE.