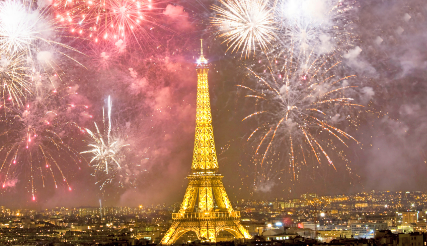 Yes, I know, it does seem strange that I, DA BG – extoller of the French Country backroads, food, wine senic landscapes and other Treasures of France, am giving you this Paris Covid Update, by writing about- A CITY.
But, as you are well aware Dear reader…Paris is not just any city. Like, for instance, Burbank, Blackpool, or Bolton.
But a city steeped in history, culture, adventure, intrigue, betrayal, massacres and all that other stuff that makes Paris, well,..er..PARIS!
Travelling to France after Covid won't be the same as it once was. The city has undergone massive changes in the past decade, and this transformation has made it a better, more vibrant destination in the eyes of many.
One of the most noticeable transformations came with the opening of the Palais Covil in 2008. It is a convention-centered complex housing restaurants, bars, cafes, shops, conferences and events. The biggest such hotel complex in Europe and the Paris Region.
The transformation into a tourist center was the result of several factors. The first being that Paris is now the top tourist destination in the world
The second factor was the global economic crisis. An inevitable result of Covid 19. It virtually crippled the tourist industry. Which, obviously, is the city's main main attraction.
Sad, but for the moment, unavoidable to see: hotels, restaurants, clubs, cafes,bars,theaters, conference centers that helped spread the vibe of the city muted.
Particularly affected was the Palais de Paris, which is a large convention space that hosts conferences, meetings, weddings and fashion shows. The same fate also befell the Palais de Choubiras, an up and coming venue for the fashion industry.
In addition to it's obvious tourist and cultural attractions,Paris has also been the setting for more than a few blockbuster movies and plays. Argueably the three most well known being Les Liaisons Dangereuses La Vie en Rose and Les Vampires .
And so, yes, Paris is down. For the moment. But, like a boxer who has taken a serious beating, will be on her feet again. Sooner than you think. (Hold that thought!)
This Video  has more of my non-Paris ranting.
THROW ME A BONE HERE, PEOPLE!
WHAT ARE YA THINKIN'?