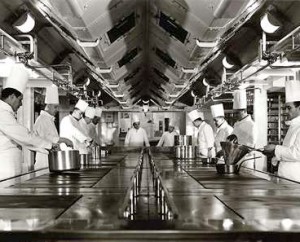 (authors note : Part One could give you some food for food thought.)
There is a third, rare, and unusual way to claim the GFC toque. The French call it : "autodidact." Ok – it does sound like the name of a newly discovered dinosaur – but it means, simply : "book learning." No tugging at Granny's apron strings. No familial culinary passion. No famous chef Daddy. Just untold hours of recipie reading. And who knows how many flat soufflés.
And when, after countless years of solitary apprenticing, you've finally lifted yourself up by your saucepan – you get to raise money! So you can mortgage your soul for your dream. And thrill to the propect of losing money for a least the first five years. As you toil twenty four/seven. Constantly aware that one bad review could reduce your dream to the consistency of your first soufflé.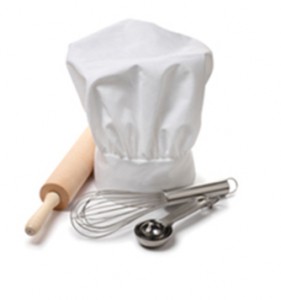 If I had a toque, dear reader, I would, with admiration, take it off. Saluting all the GFC's who have done it "by the book."
Since I began this ramble by asking : "Who is the greatest French chef?" – I will now, bien sur, give you my answer. His name is : Jean Luc Maurice. And although He derived inspiration from his retired chef Father, Jean Luc made it under his own steam. The apprenticeship way. England. Japan. France. Toiling for, and with, the GFC's.
Constantly learning, increasing, and perfecting his talent. Until, finally, He was able to open his own restaurant.He lost his shirt. Shady business partner! No loan from Daddy. Jean Luc hit the bricks. Raised the cash. Before He was thirty , Jean Luc owned two bistros in Paris. (Hey, I told you these guys were dynamic!) Eventually, He sold two. But to the current chefs. His friends, and former associates.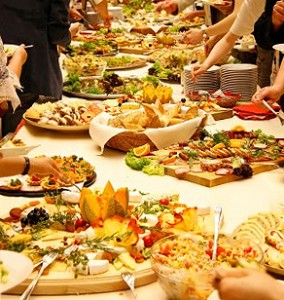 However, as all the clients knew Jean Luc, He celebrated the sale with a private "regulars only" party – On the house! A six course plus meal. With every variety of alcohol imaginable. Two, four tier dessert trolleys groaning with goodies. All orchestrated by Jean Luc. Alternately behind the stove, and bouncing from table to table. A block party! And, to pile appreciation on appreciation – Jean Luc personally presented each client with a gift, relative to their specific interests.
Part Three – Next Time
THROW ME A BONE HERE, PEOPLE!
What are ya thinkin'?