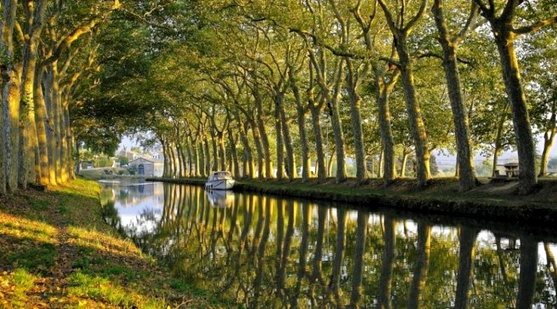 French Country Travel Life Cruises – You can have one on a multitude of waterways. As you've probably suspected. all depending on how long you have, and your, ahem..shall we say:"boating style?"
Perhaps best known – the Loire – France's longest river, former Number one cargo route for transporting everything to villages along, and the ocean at the end. Back in the day. These days, although it's freight forwarding days haven't ended, the Loire is largely a pleasure cruise destination. And, truth be told, there are many visual pleasures on offer à cote it's(excuse a moi) "Her" banks.
The Loire also has it's own canal. The canal Lateral, which glides you through tree lined banks and "Villages du Charme." One of it's more spectacular features being it's passage over the Pont du Canal just ahead of the town of Briare.
The Pont du Canal, constructed by none other than Gustave Eiffel (Yes, the "Tower man") is a watery bridge perched above the Loire. Da Bg can and hereby does confirm, that sailing over a watery bridge, with water below, is an experience that 60's acid heads could never have  imagined.
But for my money(or lack of it, to be precise) the" King o' the hill "of French Country Travel Life Cruises, is to be had on the Canal du Midi. This waterway, not as long as the Loire, but definitely not a do-it-in-a weekend outing, is a laid back mash up of (mostly former) freight carrying canal boats. "Re-imagined" as houseboats. And pleasure cruisers of all nationalities.
You can catch the vibe in THIS VIDEO.
THROW ME A BONE HERE, PEOPLE!
What are ya thinkin'?