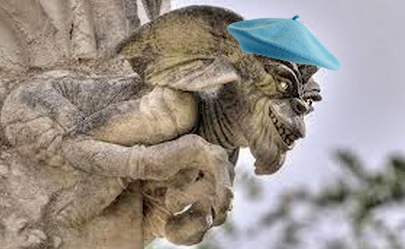 French Country Travel Life Gremlins. They're real. Not"flesh n' blood" real – but sand in yer oyster" real. And they will put that sand in your particular oyster at any time. For any Reason. And there is diddly you can do about it.
I know. Because I have been "gremlinated" several times by them thar French Country Travel Life Gremlins. Always when everything was going just fine. But then, that's what "gremlination" is all about – innit?
Of my many encounters with these supernatural meanies, three are most vividly etched in my memory:
Gremlination One :
There are a number of islands off the Atlantic Coast of france, accessible mainly from the city of Nantes. (pro:"Nawnt") Like most islands reachable by a short ferry ride, their population explodes during "the season." Which in France, normally starts after the kiddos escape school in early June.
I was headed to one of these bucolic isles. Happily in the last week of April. And, yes, the weather WAS co-operating. More than usual. To the point where the mercury was a good 10° above the norm. Sounds perect -dunnit? And guess what – that's just what the Gremlins thought too.
They decided to have a little fun with me on that sweltering day. After a five hour journey to arrive at the ferry landing…just as I was mustering my seriously depleted energy ferry-ward….the "G People" belly laughed themselves by exploding my front tire! Not just the tube, mind you. But the tube AND tire. With an enormous roar. Worthy of any cinematic special effect.
Think it can't get worse? – Chew on this:
Gremlination Two:
This was another Ferry Boat caper. However the G People decided to increase my tension by NOT manifesting themselves on departure. They had other plans for me. And exiting the ferry, happily, was not one of them. No, they had something much more devasting to unleash. And, true to form, they waited until I was in a suitably remote section of the island of Corsica. (And there are many.)
Then, just as the Sun was starting to caress the blue horizon – They Struck! Almost silently. Were it not for the fact that pedaling suddenly seemed effortless, I would never have noticed that my chain – she which propels it all, had (gremlinly) snapped. And more to the point..was at the top of the serious hill I had just descended.
Gremlination Three:
One of the great joys of France -and my major reason for being here – is that there are multiple routes to almost everywhere. ie – Freeway/Major road/Minor Road/not on the map road/country lane, etc…..you're getting my drift, are you not?
It was on one of these indescribably perfect tiny routes that the French Country Travel Life Gremlins trotted out their "Coup de Grem" Their ultimate ultimatum to remind the exotic stranger from the faraway lands that: "we are in control – and you are toast!" Yes, Dear Reader, they had saved the "best" for the last.
I knew they'd struck again when my perfectly balanced machine suddenly became imperfectly balanced. The reason? The G People had snapped the left one of the two struts that support the rear wheel!
Bottom Line: Don't go sailing out on your sea of adventure thinkin' that the wind will always be at your back, and the sun beaming brightly down from a cloudless sky. Because those are exactly the conditions French Country Travel Life Gremlins L-O-V-E!
THROW ME A BONE HERE, PEOPLE!
What are ya thinkin'?