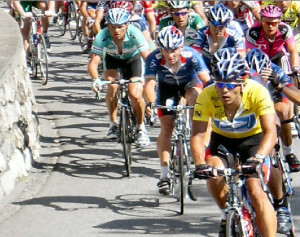 Tour de France Photos 2015 ! Travel photos. Landscape photos. Nature Photos. Taken by YOU. With DA BG à cote.
Yes, it's your very own personal Tour de France Photo Holiday, complete with French Wine, French Gourmet Food, French History ,unbelieveble photo ops, and best of all, many memorable meetings with the fine folks o' France who are, as Mick Jagger croons :(in the song about 6 Puerto Rican girls) "dyin' ta meetcha!"
You'll find, as I have found, that the greatest "Treasures of France" are the Country People of France. You'll notice I didn't say just French Country people. That's for the obviously logical reason that the folks living the French Country Dream Lifestyle are natives of every country. (Yes, even the "Excited States.)
The genuine welcome and hospitality you'll receive from them, and the photo ops you'll discover, will ABSOLUTELY make YOUR Tour de France Photos 2015 last a lifetime.
Here's a taste to get you started:
Bicycle Gourmet's Tour de France Photo Workshop 2015 details are HERE.
Throw Me a Bone Here, People!
What are ya thinkin'