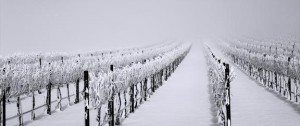 Is there really a French Wine Climate Crisis? And if so – What does it mean for French Wine lovers  Worldwide?
Remember that old song -"There's got to be a morning after?" – well…that's sorta how DA BG feels after my LAST POST, which extolled the ecological progressivness of the froggie wino industry.
But, verily, I say unto you, the climate, like the times, certainly be a changing. How much and how quickly are the most obviously important questions.
Maria Doezema, my wino pal in the frozen North(where the climlate never changes) has the liquid disaster scenario details: