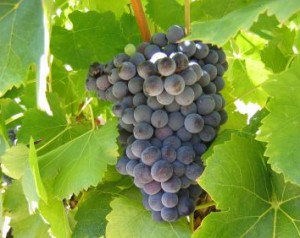 French Wines Rodney Dangerfield Grape is Grenache. Like the American comedian , Grenache "can't get no respect." At least not sufficient to make it a household name along with such International stars as Cabernet and Merlot.
The reason is that it's a great blending grape. A team player. Not a star quarterback. Owing largely to it's thin skin and good cellaring qualities.
Personally, DA BG does give Grenache respect. Especially a bottle of 100% "Big G." YUM!
Will Grenache ever get the respect it's other fan's say it deserves? Like any good vintage, only time will tell.
But for now Beppi Crosariol tells the rest of the "can't get no respect" grape's story:
"It's one of the world's most widely planted grapes, but grenache tends to lurk in fame's shadow. A major component in southern French blends, it rarely gets marquee treatment on labels. Châteauneuf-du-Pape, Côtes du Rhône and the famous rosés of Tavel, among others, all tend to be sculpted around its seductively soft, succulent berry essence, a fact that no doubt would be news to some fans of those wines.
Even in Australia, where the convention of naming wines after grapes prevails, it's rarely a solo player. You'll find it there as in the Rhône, frequently in combination with classic sidekicks syrah and mourvèdre in so-called GSM blends.
The reason for its team-player status has as much to do with colour and cellar endurance as with flavour. Unlike syrah and mourvèdre, the grape is thin-skinned, so the wines can be deceptively transparent, a liability in a world that associates rich flavour with the colour purple.
Those skins also lack substantial tannins, astringent compounds that protect red wines from bruising like a peeled apple. If vinified without proper care, a pure grenache wine can oxidize prematurely, leading to a desiccated quality that suggests prunes rather than fresh raspberries, cherries or currants.
Most people familiar with grenache associate it with southern France, the world's top source. But that's not its home. Spain is. The likely birthplace was Aragon, a tiny region in the northeast best known to monarchy buffs as the home of Catherine of Aragon, King Henry VIII's first wife, whose failure to bear a son provoked that famous annulment and England's divorce from the Roman Catholic Church.
In that context, it might be construed as slightly ironic that Aragon's queen of grapes, known in Spanish as garnacha, found its highest calling in a wine named after the 14th-century papal castle in southern France. Yet one can find an uncanny similarity between fine Châteauneuf-du-Pape and a much less expensive wine from Aragon released this week in Ontario. It's called Langa Tradicion Centenaria Garnacha, a glorious red made from 80-year-old, organically grown vines. That advanced age can be especially beneficial to grenache. Old vines yield fewer but more concentrated — and tannic — grapes. When you've got old-vines grenache, you don't need sidekicks; the grape can carry the show all by itself."
Read more HERE.
THROW ME A BONE HERE, PEOPLE!
What are ya thinkin'?