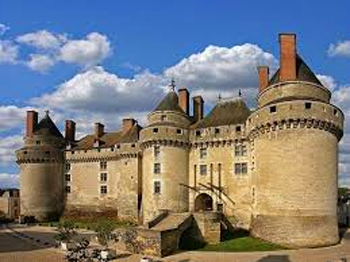 The story of the Queen For More Than a Day is a unique slice of French History. Which, as you may remember from THIS POST pretty much takes the cake(with the cherry on top) in the  Historical Uniqueness Sweepstakes.
The Queen in question was able to accomplish something no other lady of her day was able to do. Become Queen of France, twice. And, unusual (and unique) as that historical milestone was, she did it in the usual way. Marrying two Kings. (Seperately, bien sur.)
The lady's name was Anne de Bretange. And our riverting drama begins when Anne, at the tender age of 14, marries King Charles 8. (can you say: "King's have more fun?")
As you'll recall from "expanding your empire 101" the quickest way to..well…expand you empire, was to have a female of your family – or your cousin's/uncle's family…or barring that….your gardener's family…marry someone noble with lotsa land.
The preferences in order of star rating being a duke, a prince, and, at the top o' da ladder – a King.
So – no flies on Anne de Bretange!
While not implying that love did not bloom in Anne's union with Charles, the "arranged marriage" concept was pretty much the "business as usual" m.o. of (royal, and wannabe royal) matrimony back in the day.
However, Anne's situation was somewhat, DA BG doth say,(again) "Unique."
Anne became the Duchess of Brittany(Bretagne) following the death of her Father, Francis, who fell from his horse.
This resulted in a second war between France and Brittany. So, Job no. one for Anne was obviously to marry someone (preferably anti-French) who could help hold her Duchy(the territority of Brittany) together.
Maximillian the first of Austria was recruited. Anne's marriage to him(by proxy…which means they probably never slept in the same bed) wasn't received positively by the French. As you can well imagine.
More blue meanies: Anne's presumed allies were too busy with their own wars to lend a sword or two.
The French, led by Charles 8 were banging on the gate.The turning point came when Anne, having received no aid from Hubby Max. saw her captial of Rennes fall into French Hands.
Those of Charles 8, to be precise.
Anne became engaged to Charles there. Despite the howls from the Austrians – because she was already "married" to Max. – and because Charles was supposed to hook up with Max's Daughter, Margaret.
"tant pis" (too bad) for the Austrians.
Charles and Anne were married in the Chateau de Langais on December 6, 1491
Part Two of –  Queen For More Than a Day – next time.
'til then.you might enjoy this slice of "Anne-o-rama"
THROW ME A BONE HERE,PEOPLE!
What are ya thinkin'?