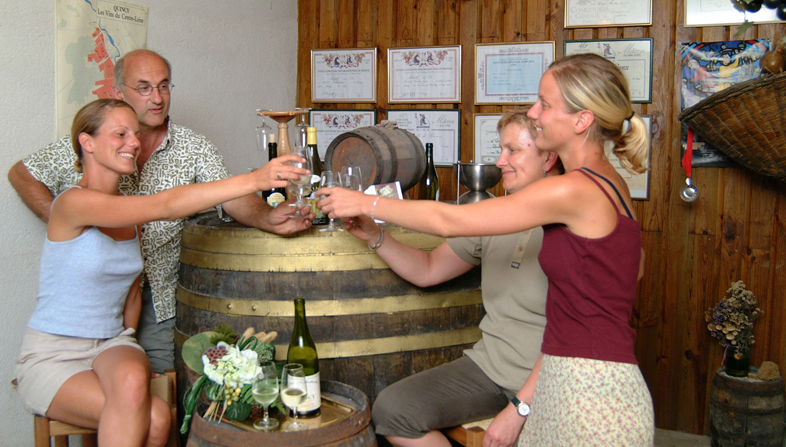 The French Country Travel Life Pie – Part Two – may be best appreciated by first thrilling to PART ONE.
He was smiling. Not a polite but slightly apprehensive smile. But a totally genuine and relaxed one.  As if I was an old pal who had unexpectedly dropped by.
Before I could even finish my brief "here's why I'm knocking on your door on a dark rainy night' rant, Jean ushered me in.
His equally hospitable wife, Chantal didn't ask the obvious question. (That being "Have you eaten?") but immediately seated me at the dinner table and began reheating the remains. While Jean poured me a very welcome glass of his wine. And we got to know each other.
I was suprised to learn, in contrast to most vinerons, that both Jean and Chantal were Agicultural Engineers. This education and attitude was reflected in the International nature of the books and newspapers I saw in their living room. Chantal corresponded with several people in Eastern Europe, helping them learn French. (Her origin is Polish) and Jean frequently hosted students and inspiring winos from lands even more exotic than mine. Bottom line: They lived in the country. But were plugged into the World and helping people.
Morning's light confirmed that "Domain Tatin" was not your classic "Little Farm on the Prairie." Like most wine makers, Jean and Chantal are on the "wine tourism" trail. And so have a Gite.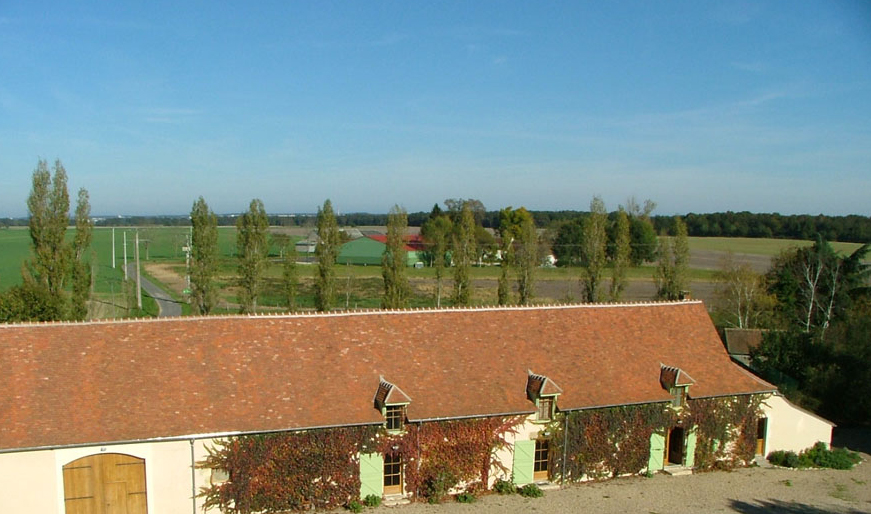 This for me, was the mother of all Gites. Seperate from their house, but at right angles to it, the Gite comprises a main floor/living room(bigger than their own) with a fireplace, plus a second floor with (didn't count 'em) 5 or 6 rooms each with two beds.
Below this, a bar/tasting room, which opens up onto a "salle de reception." (think school cafeteria.) With long retangular tables at the ready for whatever wine-related occasion.
In addition to tourism and their vineyards, the Tatins also have some-non wine crops. All of this necessitating a permanent staff of 5 or 6 people. To maximize time and efforts, Jean has as 3 or 4 "beat up old cars" with keys always in the ignition. So, when every someone needs to get from a to b, they just hop in the nearest "efficient transportation."
As you would expect from modern farmer, Jean is plugged into the tech marvels that (sometimes) make life easier. Once, riding with him as he organized workers on his iphone while driving, I asked him what life was like before digital electonics. Jean replied: (in perfect english, tho' he professes not to speak it) "It was a different world."
Jean and Chantal have three daughters: The (non-identical) twins : Elise and Joanna, and Maroussia , the youngest. She is the only one active in the family business. And will eventually be the "Chef" of Domaines Tatin. Elise is an incredible painter and art professor. Joanna, inheriting her Mother's talent, is an equally incredible musician (accordian) and vocalist.
But wait – there's more! Elise and Joanna speak three languages. And Maroussia four. International enough for ya?
The night before my departure, after my "overnite" at Chez Tatin had been mutually extended several days, Jean enquired about my route. He then phoned a fellow wino 50kms (a days ride) down the road, who was also up for a visit from the exotic stranger from the far away lands.
You're beginning to see why this guy is such a treasure. Aren't you?
Part Three – Next Time
THROW ME A BONE HERE, PEOPLE!
What are ya thinkin'?