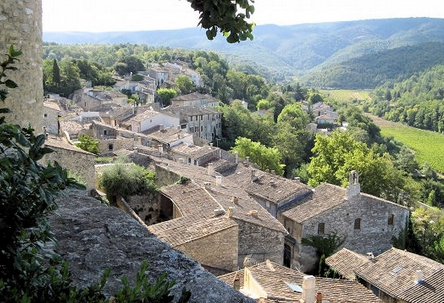 French Country Travel Life Village Encore is what you're getting here. Due to my big mouth. Yes, I did shoot myself in the literary (travel-ary?) foot after my previous hilltopy posts, when I threatened "more about hilltop villages another time."
The time, dear reader, has come. And although there are no shortage of possibilities, I've managed to narrow the "successful candiates" down to a manageable number. Let's dive in, shall we?
Menerbes
As you will recall from my previous hilltop village scribblings, on the road to Coustellet, you had the choice of not continuing straight on, but turning right when you saw the appropriate sign. That sign reading "Menerbes."This hilltop jewel rises out of the Vaucluse plain, with a 360° view of vineyards below.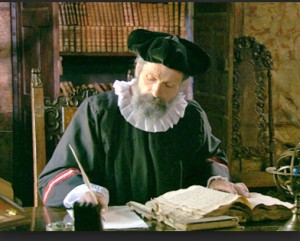 Which lead Nostradamus to proclaim: "Menerbes floats on a sea of vines." Sorry ta burst yer bubble Nosty, but these days Menerbes floats on a sea of tourism. (as you no doubt expected?) But that's not a problem. Due to the fact that the village has only one "main drag" that progressively inches up from the road below. And virtually no parking.
Having only two resturants, the obligatory bar, and an Art gallery means you can "do" Menerbes in a few hours. And still have a "rich cultural experience." Like? Well, you could gaze in awe at the former mansion of (one of) Picasso's (more long term) mistresses – Dora Maar.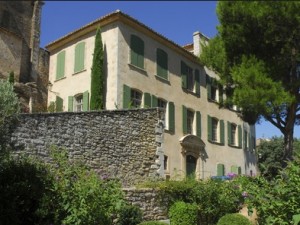 Herself an artist, encouraged by the P man hisself.  Who did for a period of time reside there also. Today various arty types on the "summer workshop in France" circuit descend upon it.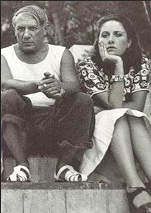 If you continue up the hill past the Maar Mansion, you'll pour out onto a village square with an imposing central tower. Here you'll find one of the many amazing views of the Luberon mountains which ring the place. And a museum of wine. With a few bottles for sale (suprise, suprise.)
Menerbes landed on the "must see before you die" list of French attractions, largely due to the legendary English scribbler Peter Mayles. Who used to live there. Until he made the regrettable decision to ridicule some of the locals in his tomes, and (even more unwisely) use their real names. The result being that he was invited to "get outa dodge." Which he did.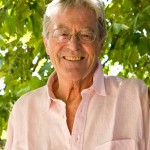 Last seen sequestered in Lourmarin on the other side of the Mountain. (BTW, one of the nicer places to be "sequestered.")
Today, as a result of it's location, History and International Attention, Menerbes, akin to many of it's neighbours, is populated almost exclusively by the "deep pockets" of all Nationalities, and those of serve them. (hint : the shop-owners, etc.)
This fact,it's location, history (not mention the lack of parking!) make Menerbes a stop well worth making.
And so it glows.
Part Two – Next time.
THROW ME A BONE HERE, PEOPLE!
What are ya thinkin'?