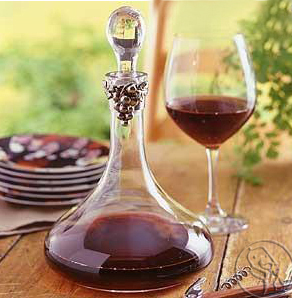 A French Country Travel Life Wine Miracle? – You betcha. There are many. But this one is in a class by itself.
As you well know, the majority of those who love wine prize the older varities. This is the classic "good news" -bad news" scenario. The good, depending on the quality of the cork. The bad – when you  get a cork that's croaked. Then you have an extra bottle of vinegar for your salad/cooking. Sadly, DA BG has had this unhappy experience more than once.
But this French Country Travel Life Miracle is concerned not with the stuff in the bottle, but the grapes that make the stuff in the bottle.
Jane Anson fills us in:
A plot of 200-year-old French vines has just been classified a Monument Historique, the first time a vineyard has been awarded the distinction.
'A remarkable example of genetic resilience': Jean-Pascal and René Pédebernade
The vines, dating to between 1800 and 1830, are located in AOC Saint-Montin the Gers, and cover an area of 2,000 square metres.
They are pre-Phylloxera vines which have not been grafted onto American rootstock, as is normal practise today.
Part of a 12-hectare estate near the village of Nenin, the classified vines belong to 85-year-old René Pédebernade.
The estate is now run by his son, Jean-Pascal, but René still looks after this oldest plot, using traditional methods of cultivation. The vines grow on sandy soil, explaining how they survived the Phylloxerra epidemic.
Some are arranged in both perpendicular and parallel directions rather than one single line, a method of cultivation that was abandoned in the late 19th century, and was designed to allow oxen to move easily around the rows.
There is a mix of 20 red and white grape varieties, including Tannat, Fer Servadou, Muscadelle, and seven varieties not previously classified, which have been baptised Pédebernade 1 to 7 in honour of their owner.
'The vines are a remarkable example of biodiversity and genetic resilience,' Eric Fitan, director of the Wine Bureau of Saint-Mont told Decanter.com, 'and also provide us with a crucial link back to how vines were cultivated in the days before Phylloxera.'
The grapes from the main estate are sent to local cooperative Producteurs Plaimont – run by André Dubosc, a long-term supporter of forgotten grape varieties, who runs a vine conservatory in Saint Mont and pays his cooperative members a premium for looking after any old, rare plots of vines.
Read More about this French Country Travel Life Wine Miracle  HERE.
THROW ME A BONE HERE, PEOPLE!
What are ya thinkin'?