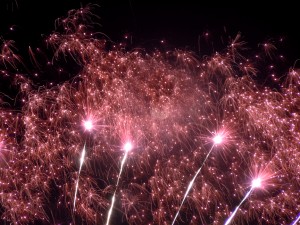 It's a Family affair. With relatives you've never seen before.  And not the distant Uncles, Aunts and Cousins variety. But relatives you've never met, and almost certainly – will never meet again.
Your relatives are incredibly welcoming, friendly and accomodating. They'll do anything they can to help.  And they've just met you!  They're not trying to impress you with their car, their clothes, their iphone, how much money they make,  or how important they are. After all – they're Family!
A human family of thousands. Coming together to collectively gaze into the sky for 20 minutes and be awed, amazed and overwhelmed by the ritual we call :  Fireworks.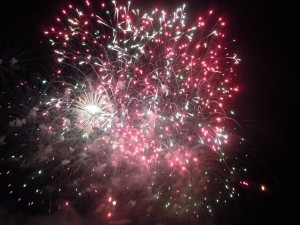 Wrongly classed simply as entertainment, Fireworks have a much more profund and significant importance. They are genetic memories. Memories, rekindled, of our Human origins. Re-connecting us to our prehistoric ancestors. Those cave dwelling, club toting relatives who marvelled at the night sky ruminating on Life, Liberty, and the pursuit of the Wooly Mammoth.
Fireworks allow us to enter, albiet briefly, the tent of (apologies to Freud) "Collective Consciousness."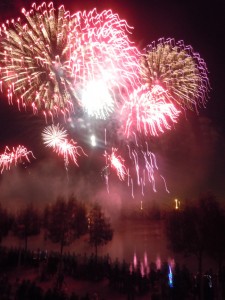 Although, as in every Western country, Fireworks are ubiquitious during the Summer months, the major firey fiesta here is July 14. Bastille Day. Celebrating the storming of the Bastille during the French Revolution by peasants who were "mad as hell and were'nt going to take it anymore." (Yes, Virgina, the equivalent of your fourth of July.)
In major French cities(Paris, Lyon, etc.) Bastille Day fireworks blast off precisely on the Anniverary date. (July 14.) But in lesser sized Hamlets, the firey event is at the (pardon the euphemism) "discretion" of local politicans. Thus, depending on your location, "Le Fete National" can go up in lights anywhere between July 13 – 16. (Now that's flexibility!)
This time around, atypically, DA BG was not in a tiny village down a country road. But in a  medium sized city.  Angers(pro : "on-zjay") on the Loire.
Having heard of no deaths, suicides, divorces, break-ups, injuries, fights or car crashes, I'm relatively confident in proclaiming : "A good time was had by all!"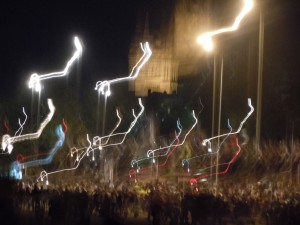 Don't you wish you were there?
THROW ME A BONE HERE, PEOPLE!
What are ya thinkin'?