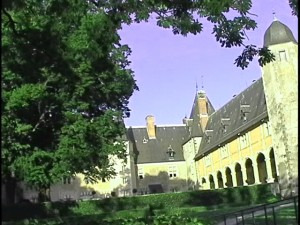 Like most folks from the far-away lands, high on my "must see-must do" list in the land of cheese, wine and other things fine, was a French Dream Chateau.
After all, next to the Eiffiel Tower, what is the most universally recognized French icon? Uh…that would be…..a chateau…would it not?
Like Churches, Chateau's spring up like weeds all over the French landscape. And, like Churches, they are monuments to, and museums of the countries  incredible history.
As you would imagine, they come in all shapes in styles. What they have in common is that virtually none of them were the work of one architect, or one era. Again, like Churches, they were improved/extended/refurbished by a succession of owners. And that uniqueness, that  true individuality (and isn't that the best kind) is the stuff of legends.
It's not rocket science to find a Chateau you can visit/stay in. The "hospitality industry" obviously includes all manner of stately manors where you get get your History fix. And grok the atmosphere of rustic by-gone times, without nasty plagues, poverty and massacres spoiling your fun.
Again, luckier than smart, on one of my first forays I was fortunate enough to find my French Dream Chateau.
Yes, it has the rich history, the incredible location, surrounded by forests (ie – no neighbours!), not to mention it's own lake. But what made it "first among equals" on my Chateau menu was the family vibe. It's current owner, Count Beraud de Vogue is the fourth Devogue to be born within it's walls. And it's his genuine pride of ownership, personally guided his guests through the family estate, that make the Chateau Le Verriere a not to be missed French Dream Chateau.
Here's a quick peek:
Say Hello to Count Devogue HERE.