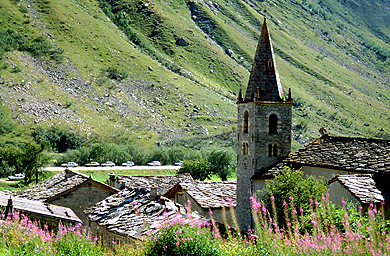 French Country Travel Life Lowdown  – is what yer 'ole pal DA BG is gonna give ya. Now, don't know if  my posts, videos, and other assorted French rants have contributed to the number o' folks who want to live the French Country Travel Life – but that number appears to be definitely on the rise….

as my fellow scribbler Charlotte Cubbit reports:

'We've observed that some of our foreign clients, once interested by the Riviera, want to explore undiscovered parts of Provence and Languedoc-Roussillon,' says Valerie Davies, of buying agent Transac. Unfortunately, there are dangers with going off-piste in the South of France.'If you go further than an hour from Nîmes, you lose the Provençal character and the cypress trees,' says Trisha Mason of French estate agent VEF.

The coastline of the Hérault is dotted with caravan parks, and amusement arcades and parts of the Haut-Languedoc 'People want to sit outside in mid November and buy their groceries from a local market.The French lifestyle still appeals to buyers, even if the exchange rate doesn't' can feel dark, cold and remote.And then there's the increasing number of wind farms that mar the landscape, and the nuclear power stations lining the Rhône Valley.

But this shouldn't put off the intrepid househunter. There are pockets of unspoilt countryside within these areas Lagrasse in the Aude, for example, and the picturesque villages along the Canal du Midi.The Languedoc- Roussillon and Midi-Pyrénées might not be Provence, but they have their own distinct character and architecture. 'They have something for everyone,' says Hannah Rogerson from Quintessentially Estates. 'Châteaux, beaches, mountains and green fields.'

Lock-up in the Languedoc

The Languedoc-Roussillon, the region to the west of Provence, comprises the departments of Hérault, Aude, Gard, Pyrénées-Orientales and Lozère and 155 miles of beaches from the Côte d'Azur to the Spanish border. With more than 300 days of sunshine, it's the world's largest wine region, producing more bottles than Australia and New Zealand combined.

According to Miguel Espada, a property developer in the region, it's like Provence 50 years ago. 'There's no more space in the south-east of France. In the Languedoc, the quality of life has been preserved, and property is still good value for money.' Mr Espada, who has worked in resorts across the world, believes that there are buyers out there who want to enjoy the relaxed way of life in the Languedoc without the usual stresses of overseas property-ownership. In 'town on the up' Hérépian, near Olargues and St-Gervais-sur-Mare, he has converted a former convent into furnished apartments and a spa.

The project sold out within several months, and he is now developing houses in the Aude from €205,000. 'We have 20 village houses to sell, with swimming pools and a share in a vineyard,' he says. 'The residents will be part of a community; they can go truffle- and wild-boar hunting, and there'll be a spa using local plant extracts.

But the houses will be managed for them when they're not here. It's a completely new concept in this part of France.' Situated on a 17-acre riverside site beside the small village of Saint-Laurent-de-la- Cabrerisse, not far from the pretty village of Lagrasse in the Corbières area of the Aude, the two-three- and four-bedroom houses at Les Jardins de Saint Benoît are built using local materials and decorated in Provençal style. There are restaurants, a bar and a children's club on the site, which is surrounded by 12th-century gardens.

The development won't suit those in search of isolation on their holiday, or those wanting an older house with traditional features. But for someone after a conveniently located and tastefully decorated lock-up-and-leave holiday home that generates a guaranteed rental income without them lifting a finger,

Mr Espada's project is extremely attractive. His company, Garrigae, has other projects in Languedoc-Roussillon and Provence . Meanwhile, Latitudes is selling a substantial vineyard and six-bedroom house in the Hérault, close to Montpellier, for €1.89 million.

An alternative to Aix 

The Belgians have discovered Uzès in the Gard, but the town is not well known in England. Situated 15 miles from Nîmes, and less than an hour from Avignon, it was an important cloth-manufacturing centre in the 16th century.

Its stone streets and squares are incredibly clean and tidy, and, twice a week, the town becomes a vast market, selling traditional Provençal fabrics, herbs, furniture and books. Well-heeled shoppers drive from as far as Marseille and Toulouse to browse the stalls in the Places aux Herbes.

'Uzès is a lively town all year round,' says Valerie Davies of buying agents Transac. 'There are annual wine and truffle festivals and the surrounding countryside and local villages match any that you might find in Provence.'

Properties in the Uzès area are about 20% cheaper than across the Rhône Valley in the Luberon, and in the Alpilles. 'There's a great variety of properties to suit every budget,' says Miss Davies. Townhouses in Uzès are different from those on the other side of the Rhône. 'The story starts behind the front door,' says Miss Davies.

Many have vaulted ceilings, plasterwork and internal courtyards, as well as sunny private gardens at the back. 'They keep cool in summer and warm in winter, and they rent out well. When you're not there, you can just lock the door you don't have the maintenance costs of running a country house.'

The town is surrounded by small villages such as Blauzac and St-Quentin-La-Poterie. Here, there are large manoirs, with parkland and outbuildings less rustic in style than those of Provence. 'Only minutes away from Uzès is the impressive Gorges du Gardon and the famous Pont du Gard, and you're not far from the sandy beaches of the Camargue,' says Miss Davies.

She can show potential clients an 18th-century estate near Uzès, with a manor house, stables, a garage, a swimming pool and 25 acres for €1.9 million, and a village house with six bedrooms, a courtyard garden and a pool for €1.65 million (07984 466092). Meanwhile, for €795,000, VEF is selling a restored village house with four bedrooms and pool, a 30-minute drive from Uzes.

A home in the Drôme 

Impoverished provencophiles should look no further than the Drôme. The region has two distinct parts divided by the Rhône valley Provençale (east) and Ardèche (west) and has all the characteristic features of a Provençal département. There are black olives, truffles, lavender and goat's cheese, and good Côtes du Rhône wines.

Madame de Sévigné, one of the greatest femme de lettres in history, is from Grignan in the Drôme; le Pays de Grignan comprises 14 fortified villages, surrounded by lavender fields and oak woods where the famous black diamond truffle is found. Drôme Provençale is dotted with picturesque villages and castles overlooking the vineyards; La Garde Adhémar, Le Poët- Laval and Montbrun-les-Bains are three of the 100 most beautiful villages in France.

The Drôme Ardèche on the other side of the valley is France's least-known region among the British. But, according to Trisha Mason from VEF, it's not as isolated as one might suppose: 'The mountains to the west offer skiing and lots of mountain-based sports, including pot-holing, hang-gliding and, of course, breathtaking walks.' There are golf courses, a marina, and a variety of architectural styles, including converted churches, mills, villas and stone houses.

The Drôme has both the lavender plains and olive groves of Provence and the rolling countryside of the Ardèche, and the house prices are up to 30% cheaper than in the Var or Vaucluse. In the Drôme Ardeche, VEF is selling a stone mas with gardens and separate studio for €795,000.

No time Toulouse 

If you don't mind the odd cloud, Toulouse is a convenient second-home epicentre. The city itself is the Paris of the south, and the departments surrounding it Aveyron, Lot, Tarn, and Tarn-et-Garonne might not have as many hours of sunshine each year as their southern neighbours, or a coastline, but they certainly have reliable access. 'Toulouse airport is home to Airbus, so it will always be a solid choice for flights, and the TGV stops in Montauban,' says Charles Smallwood.

'People are getting nervous about flights being cancelled, but planes are always going to fly to Toulouse.' Compared to the south, property in the Toulouse area is cheap. 'This is peaceful, tranquil rural France,' says Charles Loftie of Loftie Immobilier. 'It has been discovered by the British in the past 20 years, but you can still get very good bargains.'

Restored stone houses, with gardens and pools, can cost as little at €300,000, and for less than €2 million you can buy a small château or country estate. Since the banking crisis, prices in the area have fallen by up to 20%, according to Mr Smallwood, but there's still interest from British buyers: 'They're usually looking for characterful houses within walking distance of boulangeries and bars.'

Read More HERE.

THROW ME A BONE HERE, PEOPLE!

What are ya thinkin'?