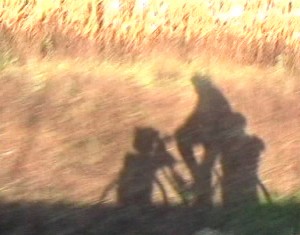 My adventures here have been, and, happily, continue to be , a French Country Travel Life Pot Puri. Slices of French Country Life. In all shapes, sizes, textures and varities. But the flavors, with rare expections, always sweet.
And the hospitality genuine and overwhelming. It's that hospitality, and the (usually) instant welcome that accompanies it, that keeps flashing up on my French Country Travel Life memory screen.
The scent of freshly baked bread, gliding through a tiny village at daybreak. Deserted expect for the Baker inside. And the Postman out. Making the rounds on his yellow bicycle.*
Meeting a Count who was as "down to earth" as his gardener. Even though he owned every piece of land for untold kms. around his lakeside Chateau.
Tasting freshly made cheese on a mountain top with the young cheesemaking couple and their two daughters. Each with their own cow.
Like the flashes I imagine you have of experiences in your life – DA BG's come at all hours. Always unpredictable. Always uninvited. But always welcome. Old friends you haven't seen for a while. But have definitely not forgotten.
Yon can "taste" a small appetizer of my French Country Travel Life Pot Puri by CLICKING HERE.
*postal bicycles are also yellow in Spain and Italy. Is there some symbolism here  we exotic strangers from the far away lands fail to grok?
THROW ME A BONE HERE, PEOPLE!
What are ya thinkin'?