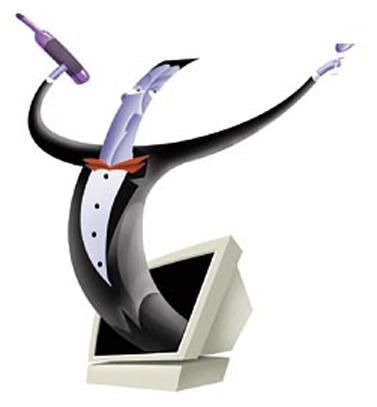 French Country Travel Life Wine Online is becoming an increasing reality. It least for the ordering part of the process. There has yet to be a satisfactory(if any) "virtual tasting." But, DA BG doesn't doubt that somewhere, some digital wine nerd is crunching his O's and 1's trying to "make it so."
Yea, verily, although Online French Wine discovery/ordering is picking up steam – it will have to go some before it replaces the sagess (thats like…you know…like.."smartness") of yer local wine shop nutter, or the prices at the mammoth-gigantic-we-will-never-be-undersold-wine warehouse.
my fellow winophilic Eric Pfanner fills out the "online opus."
"The Internet accounts for only a tiny fraction of worldwide wine sales. Most people buy their wine at local shops or supermarkets. But online sales have been growing strongly for a few years in Britain, Germany and some other European markets, as well as China and Japan. There are signs of progress in the United States, where regulatory hurdles have been a problem.
At the end of last year, Amazon opened an online wine shop in the United States. Presumably the e-commerce giant hopes to do for Bordeaux or Barolo what it has done for books: Make a previously unimaginable selection available to anyone, anywhere, at any time and at a bargain price.
But Internet wine sales in the United States have been complicated by Byzantine rules. Some states forbid online sales, others restrict cross-border shipments. Others maintain monopolies over distribution. So Amazon is starting with only a handful of states and the District of Columbia.
Europe, so fragmented and divided in other ways, is more coherent and unified in this niche of the economy. From my home in France I can order wine online from almost any other European Union country and expect it to show up at my door in a few days.
The only variable is cost. For some reason, Italian parcel services tend to charge more than €50 to ship a 12-bottle case of wine to France, about $70. German delivery companies often do the job, faster, for less than €20. There you have the euro crisis in a nutshell — or a case of wine. Still, my cellar would be a lot poorer without those occasional deliveries from the sunny south.
The most advanced online wine market is probably Britain. Wine Intelligence, a research firm in London, estimates that up to 15 percent of all retail wine sales in Britain take place online — perhaps five times the U.S. percentage.
Growth in Britain has been led by supermarket chains like Tesco, which have been using wine as a way to promote Internet grocery shopping services. But specialist British wine merchants like  Berry Brothers and Rudd were also early online innovators, opening e-commerce sites well over a decade ago.
"Not only do we like wine, but we also like the Internet," said Antonia Branston, an analyst at the research firm Euromonitor in London. More and more British online wine specialists, like Laithwaites, Slurp and Nakes Wines, are expanding to other countries in Europe, the United States or Asia. Slurp, for example, opened sites in Germany and France last year. While the prospect of a British Web site trying to sell wine to the French might sound a bit like carrying coals to Newcastle, Slurp insists there is a place for it.
"Basically, France is very focused on French wine," said Audrey Bouttier, who oversees Slurp's Continental European sites. "We are trying to do something a little bit different. Especially among young people, it's becoming very hip to bring something other than the traditional bottle of Bordeaux to a dinner party."
So Slurp offers a vast selection of what the French call "vins du monde" (wines of the world), or imported wines.
Greater choice is one of the biggest benefits of Internet wine shopping, but beware of exaggerated claims. While I often buy wine via the Internet, I rarely use generalist sites that promise a bit of everything — some Burgundy, some Bordeaux, some Australian shiraz and maybe a bit of Napa Valley cabernet, too."
 Read more HERE.
THROW ME A BONE HERE, PEOPLE!
What are ya thinkin'?