Other Recent Articles
French Travel Finds. Exceptional French Places To Stay. French Country Travel Life Guide. French Country Travel Life Expert. French Travel life Advisor. French Travel Life Tipster. French words and phrases that all relate to? Yes, clever you, yours unruly, the Bicycle Gourmet
While I have been called almost all of the above (and other names that are not re-printable in a journal as sensitive and discreet as this one) the "odd man out" here is  obviously: French Travel Finds.
Those three words describe perfectly what I've been sharing with y'all for countless scribbles, photos and videos. But those same Exceptional French Places to Stay that often gave birth to the memorable meetings with incredible people stories, photos and videos, have, until now, remained in DA BG's personal rolodex.
But – no more! The rolodex of rave resorts, French Chateaus, French Small Hotels, French B n' b's, French Gites – has been opened! And it's contents lovingly poured into my soon-to-be-in-your-hands forthcoming tome – Bicycle Gourmet's French Travel Finds – Exceptional French Places to stay.
In French Travel Finds by the Bicycle Gourmet you will discover more than forty destinations, brimming over with authentic slices of French Country Travel Life hospitality. And genuine French Culture, bien sur.
You will also, notice, and I hope appreciate, those Exceptional French Places to Stay are described  in the unedited  prose of their owners. With their own unedited images.
But wait – just because French Travel Finds is a marvy French Travel Guidebook doesn't mean for an instant that I will not be continuing to regale, amuse and(hopefully) delight you with more of my up close n' personal collisions with French Country Life. NoSir/M'am!
Bicycle Gourmet's "More Than a Year in Provence" series will continue. With Book Two arriving sooner than you could possibly imagine.
So if you be a dyed-in-da-wine Francophile (like you know who) now is the time to add Bicycle Gourmet's French Travel Finds –Exceptional French Places to Stay – to your "to do" list.
Throw Me a Bone Here, People!
What are ya thinkin'?
The Godfather of Corsican Wine – Betcha never thought there was one didya? Well DA BG is sayin' there is. Only this Godfather is only legally French. But, emotionally and patriotically, He's Corsican. ( Remember that little isalnd off the coast of France with a Strong Italian heritage?  Strong with a capital "S.")
Eric Asimov of the New York Times has the full monty on the Godfather of Corsican Wine.
"PATRIMONIO, France — Antoine Arena was a promising law student in Paris in 1975 when the Corsican independence movement took a violent turn.
Hearing of armed battles between France and secessionists, Mr. Arena decided to quit law school. In protest, he would return to this small village in the northeast of Corsica, where his family had lived for generations. He would grow grapes and make wine.
"Everyone thought I was crazy," Mr. Arena recalled as we walked along the steep slope of his Carco Vineyard last month. To the south in the distance, snowcapped mountains loomed. To the west, the cool blue Mediterranean beckoned. The sinuous Corsican coastline is among the most beautiful in the world, but almost no place on the island is immune from the baleful stare of the mountains.
"After I quit law studies, my father didn't talk to me for a month," Mr. Arena continued. "Nobody believed in viticulture. The only ones who stayed in viticulture were the ones who couldn't succeed anywhere else."
From that unpromising beginning, Mr. Arena went on to become a godfather of Corsican wine. Along with a few other influential pioneers, like Christian Imbert of Domaine de Torraccia and Jean-Charles Abbatucci of Domaine Comte Abbatucci, Mr. Arena has helped make Corsica one of the most exciting and distinctive wine regions in the world.
What makes Corsican wine so unusual? For one thing, the island culture shapes both the personality of the wine and the character of the winemakers. Corsica offers a melting pot of soils: limestone and clay primarily in the north, granite mostly in the south, sandstone and volcanic soils in the center. The climate is both maritime and continental, heavily influenced by the mountains. Winds are constant, including the famous Mistral from the northwest and the hot Sirocco from the south, countering the dampening effect of frequent sudden rains. And the people? Proud, fierce and independent barely begins to describe them.
"Corsica is very complicated," said Yves Canarelli of Clos Canarelli, who makes pure precise wines from Figari and Bonifacio in the south. "It is French, but it is not. First we are Corsican, then we are French. When you're an island, you think differently than the continent."
This tension plays out endlessly on the island, where road signs are written in French and Corsican, but the French is habitually spray-painted over. And it's evident in Corsica's host of indigenous grapes, which bear a close genetic resemblance to mainland Italian and French grapes yet offer completely different expressions.
Niellucciu, the leading red grape in the north, is genetically identical to sangiovese, but Mr. Arena's Morta Maio Patrimonio Rouge, 100 percent niellucciu, tastes like no Chianti. It's a complex aromatic feast of red fruit and earth, pure, energetic and graceful, with streaks of flowers, herbs and minerals and a touch of funk.
In the south, the leading red grape is sciaccarellu, a facsimile of mammolo, a grape generally used for blending in central Italy. On Corsica, though, it is known for its elegance and complexity — "Corsican pinot noir," in the words of Sébastien Poly of Domaine U Stiliccionu, who farms about 17 acres outside of Ajaccio in the south. His 2012 Damianu, made entirely of sciaccarellu, is simply beautiful, a savory mouthful of red fruit flavors you don't want to stop drinking.
All over Corsica, the major white grape is vermentinu, which, of course, is Corsican for vermentino (known also as rolle in southern France). Corsican vermentinu tastes nothing like mainland versions. The 2010 Granit Blanc from Domaine de Vaccelli, not far from U Stiliccionu, is a precise, lip-smacking, stony mouthful, while the 2009 Blanc from Clos Venturi, in the interior of the island near Corte, is voluminous and rich, yet with a lovely mineral tang. From the north, on a granite-and-clay plateau overlooking Calvi, Camille-Anaïs Raoust of Domaine Maestracci makes a fresh, lightly smoky, deliciously austere vermentinu called E Prove Blanc."
Read more HERE.
THROW ME A BONE HERE, PEOPLE!
What are ya thinkin'?
There is a place in France that marches to the beat of a different drummer. A way different drummer. A drummer with only one stick. The French call this place – "La France Profunde." Deep France. France the way it used to be. In the good ole' days. (you remember them, don't you?)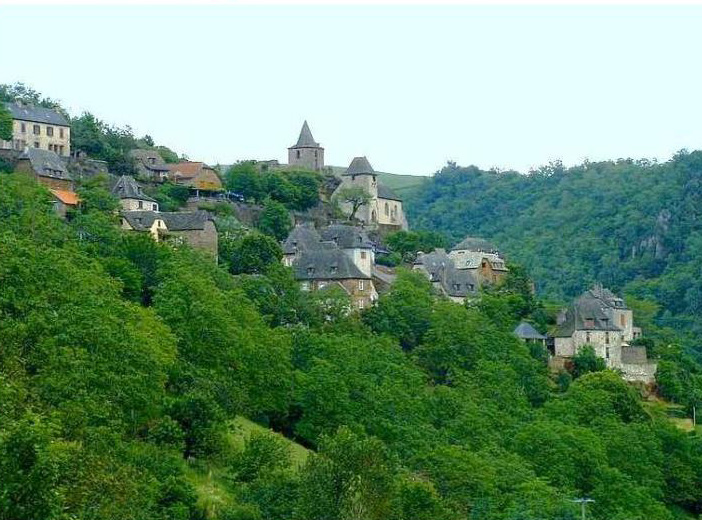 No Boutique – No Swingin' Hot Spot
Deep France is France in the slow lane. No stress. No pressure. No worries. Rural. Bucolic. (not a cow disease, but a ten dollar word for "booty-ful") It's a place where the wide open spaces are wider. The air fresher. And freeways are a crazy urban circus you only see on TV.
The location of this magical place where time runs on two speeds – dead slow and stop – is subjective. Because there is more than one region that qualifies. But the name most associated with "La France Profunde" is "The Cantal."
Geography 101
The Cantal is a region of France within the department of Auvergne. It's at the bottom left on the map, bounded by the Haute Loire region on the right. While it's impossible to say which city/town is the "big smoke" in the Cantal, the administrative centre, and most prominent on the map, is Aurillac. (iaurillac.com) That said, the Cantal is "choc-a-block" with medieval villages. Extremely well preserved. And functioning today with very few changes. Other than the obvious "Mod Cons."
Medieval Beef
This is because the Cantal is quintessentially a rural environment. Way rural. The locals describe it as :" 10,000 people, 100,000 cows." And so, you will truly find that the hills are alive with the sound of "moo –sick." The beef the Cantal is famous throughout Europe for, comes from the Salers cow. From the city of the same name. Ok, unless yer in the breeding/selling biz….a cow is a cow is a cow, right? But the medieval village of Salers, is very much more than your standard"can't believe it's so old" collection of crumbling ruins. Put it high on your list. (salers.fr and salers-tourism.fr)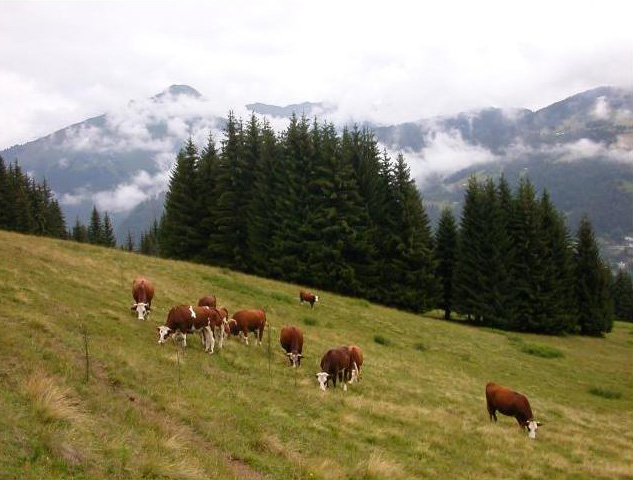 Da BG's other medieval Cantal recommendations are Laroguebrou(chateau perched on a hill above the gorge du Ceres – info from : chataignerie-cantal.com), and Marcoles. (marcoles.fr)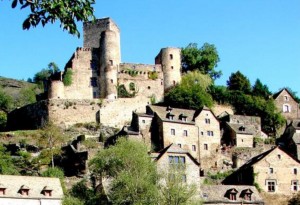 Who Loves ya Baby?
But wait – There's more! (three "mores" actually) The first being FOOD! And, as you might expect in a cow filled land, beef figures in the menus big time. The centre of "gastronomy"(fancy eatin') in the Cantal is the tiny(pop. – 1500) of Laguoile.(Curiously pronounced "la-ge-ol" by the locals, and "la –yol" by the rest of France.) THE place to chow down there is the Hotel/Restaurant Augy. Jean-Pierre and Isabelle Augy(she's the chef) will take good care o' you and yer stomach.
A Cheese runs through it
A huge contribution to France gastronomy are the cheeses of the Auvergne. Particularly the Cantal cheese. This is a semi-hard frommage(think consistency of cheddar)coming from the aforementioned Saler's cows, that's aged up to 18 months. Here, I promise you, more than any other region, you'll chow down on an incredible variety of exceptional cheeses. (and the wines not too bad either!)
The second more, is, ……a knife. The Laguoile knife.  Internationally renowned for the quality of materials, and workmanship. Virtually ever self-respecting Froggie Male has one on his belt  And, of course, there are steak knives, dinner sets, knives for every occasion, yada,yada,yada. The handmade versions can put a serious dent in yer wallet.(2000 euro plus) Naturally, they're a "must have" souvenir for touring Texan cattlemen!
The third more, is "Le Nature." The landscape. Miles and miles, of miles and miles.
A paradise for walkers. And, for most o' the rest, jus' a paradise. Especially if QUIET is at the top o' yer paradise list. And, happily, there is an association of country inns that specialize in quiet. They're :  relaisdusilence.com Locations all over France. And that includes the Cantal.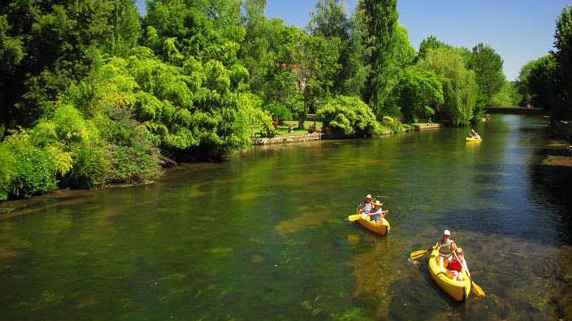 Enough ta get ya started?
THROW  ME  A  BONE  HERE  PEOPLE!
What are ya thinkin'?