Other Recent Articles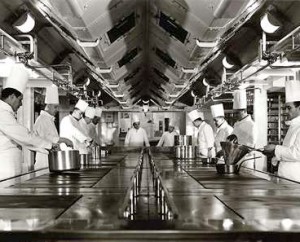 (authors note : Part One could give you some food for food thought.)
There is a third, rare, and unusual way to claim the GFC toque. The French call it : "autodidact." Ok – it does sound like the name of a newly discovered dinosaur – but it means, simply : "book learning." No tugging at Granny's apron strings. No familial culinary passion. No famous chef Daddy. Just untold hours of recipie reading. And who knows how many flat soufflés.
And when, after countless years of solitary apprenticing, you've finally lifted yourself up by your saucepan – you get to raise money! So you can mortgage your soul for your dream. And thrill to the propect of losing money for a least the first five years. As you toil twenty four/seven. Constantly aware that one bad review could reduce your dream to the consistency of your first soufflé.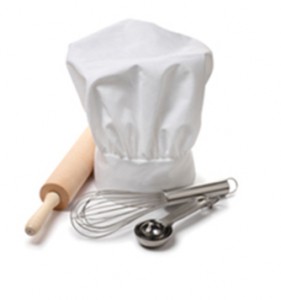 If I had a toque, dear reader, I would, with admiration, take it off. Saluting all the GFC's who have done it "by the book."
Since I began this ramble by asking : "Who is the greatest French chef?" – I will now, bien sur, give you my answer. His name is : Jean Luc Maurice. And although He derived inspiration from his retired chef Father, Jean Luc made it under his own steam. The apprenticeship way. England. Japan. France. Toiling for, and with, the GFC's.
Constantly learning, increasing, and perfecting his talent. Until, finally, He was able to open his own restaurant.He lost his shirt. Shady business partner! No loan from Daddy. Jean Luc hit the bricks. Raised the cash. Before He was thirty , Jean Luc owned two bistros in Paris. (Hey, I told you these guys were dynamic!) Eventually, He sold two. But to the current chefs. His friends, and former associates.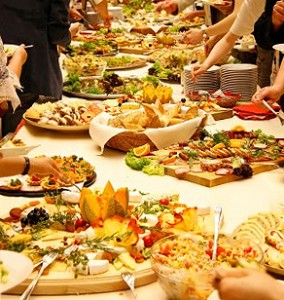 However, as all the clients knew Jean Luc, He celebrated the sale with a private "regulars only" party – On the house! A six course plus meal. With every variety of alcohol imaginable. Two, four tier dessert trolleys groaning with goodies. All orchestrated by Jean Luc. Alternately behind the stove, and bouncing from table to table. A block party! And, to pile appreciation on appreciation – Jean Luc personally presented each client with a gift, relative to their specific interests.
Part Three – Next Time
THROW ME A BONE HERE, PEOPLE!
What are ya thinkin'?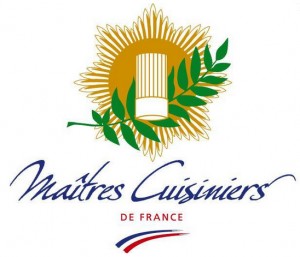 Who's the greatest French chef ? Depends on your terms of reference, dunnit? Your definition of "great." The extent of your experience with GFC's. And, of course, ultimately, it's all subjective. Who's the greatest French chef –for you? The personalities of the GFC's I've met, come in more flavours than Summer ice cream. They are, to a Man, (rarely a Woman) dynamic, "can do", individuals. Basically, "Type A" personalities on speed.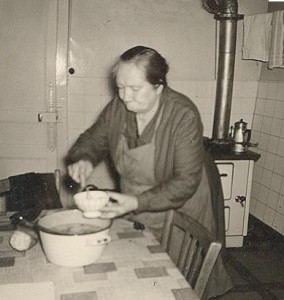 Most of the GFC's to whom the adjective "great" can be applied, base their cuisine on the cooking of their Grandmothers.("Cuisine Grandmere")
While not all future culinary superstars at age seven were tugging at Granny's aprons strings demanding :"Hey, Gran……..why did you whisk the cream in at the last minute?" – Most were raised in an atmosphere of respect for the products of the land. And it's associated history and traditions. They understood, from childhood, that the preparation of food, was an act of love. A celebration of the gift's of the land. A serious, but joyous responsibility that required equal amounts of attention and imagination.
Before I met him, one of the GFC's was described to Me thusly : "He used to be a very great chef. Now He is a very great businessman." Too true! Not only the too upholstered restaurant, festooned with photos of the GFC bear–hugging movie stars, politicians and corporate criminals – but – a cote – a turn of the century bistro. For those jonesin' for some faux Belle Epoque ambience.
A few doors down, the GFC boutique. Exclusive retailer of autographed aprons, chef's hats, knives, sheets, pillow cases, tee-shirts, stemware, mugs, and all else GFC.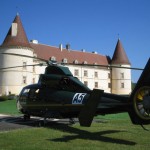 Outside the village, a massive heli-pad equipped Chateau assures the GFC will not have to turn down any convention business.
The extent to which Mr. GFC grasped the gospel of marketing, is evidenced by his firm "no" to my request to film in in his video-monitor strewn office. He smiled smugly."Eats not part of ze dream."
This GFC did learn his sauce-making at Granny's knee. And, He's the fifth generation to man the stove. Inevitably, his son will be number six. For those chef wannabes who were not dropped by the stork into the silver saucepan of culinary royalty, There's another road to GFC-dom.
It's the same road you follow to become a carpenter, a brick layer, or a sorcier. You apprentice! You willingly, eagerly submit to excessive hours of verbal/physical torture, usually in plus tropical heat, for minimum wage. Eyes fixed firmly on the prize. For as long as it takes. Perhaps this is the reason there are so few Women in the GFC club? As the logical inheritors of Granny's gifts, should We not expect more female GFC's?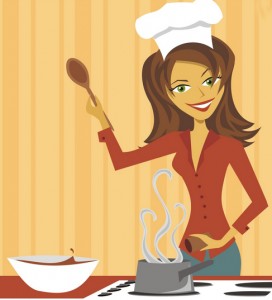 There is an association of Female chefs in France. Separate and distinct from the all gender "Cuisiniers du France." Having chowed down at more than a few restaurants with a woman behind the stove, I've found them, their cuisine, ambience and service, consistently exceptional.
Part Two – Next Time.
THROW ME A BONE HERE, PEOPLE!
What are ya thinkin'?
There is a place in France that marches to the beat of a different drummer. A way different drummer. A drummer with only one stick. The French call this place – "La France Profunde." Deep France. France the way it used to be. In the good ole' days. (you remember them, don't you?)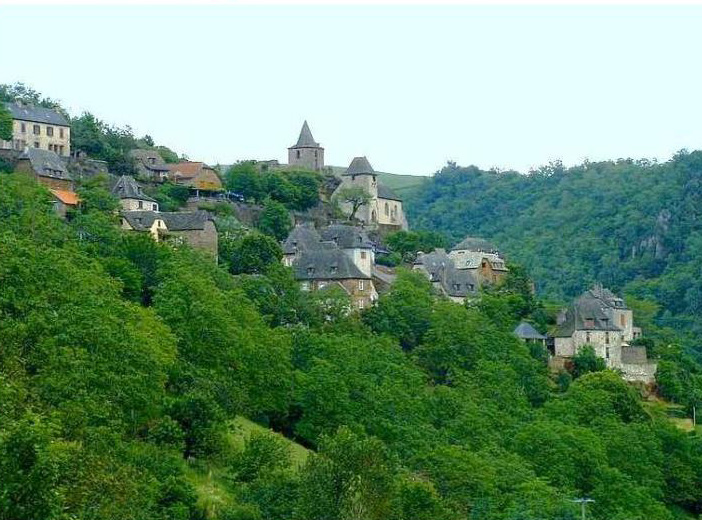 No Boutique – No Swingin' Hot Spot
Deep France is France in the slow lane. No stress. No pressure. No worries. Rural. Bucolic. (not a cow disease, but a ten dollar word for "booty-ful") It's a place where the wide open spaces are wider. The air fresher. And freeways are a crazy urban circus you only see on TV.
The location of this magical place where time runs on two speeds – dead slow and stop – is subjective. Because there is more than one region that qualifies. But the name most associated with "La France Profunde" is "The Cantal."
Geography 101
The Cantal is a region of France within the department of Auvergne. It's at the bottom left on the map, bounded by the Haute Loire region on the right. While it's impossible to say which city/town is the "big smoke" in the Cantal, the administrative centre, and most prominent on the map, is Aurillac. (iaurillac.com) That said, the Cantal is "choc-a-block" with medieval villages. Extremely well preserved. And functioning today with very few changes. Other than the obvious "Mod Cons."
Medieval Beef
This is because the Cantal is quintessentially a rural environment. Way rural. The locals describe it as :" 10,000 people, 100,000 cows." And so, you will truly find that the hills are alive with the sound of "moo –sick." The beef the Cantal is famous throughout Europe for, comes from the Salers cow. From the city of the same name. Ok, unless yer in the breeding/selling biz….a cow is a cow is a cow, right? But the medieval village of Salers, is very much more than your standard"can't believe it's so old" collection of crumbling ruins. Put it high on your list. (salers.fr and salers-tourism.fr)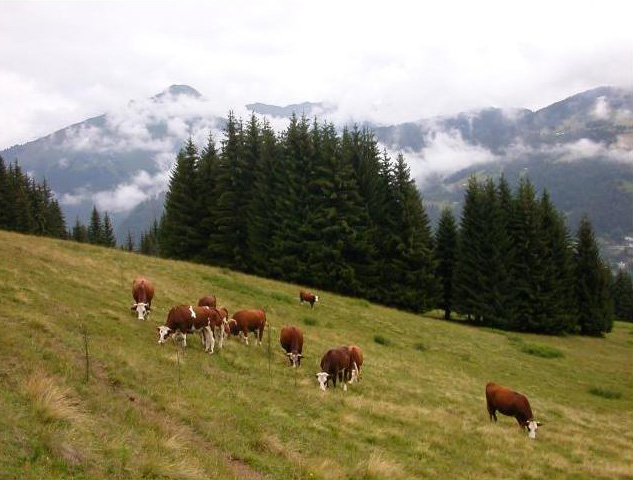 Da BG's other medieval Cantal recommendations are Laroguebrou(chateau perched on a hill above the gorge du Ceres – info from : chataignerie-cantal.com), and Marcoles. (marcoles.fr)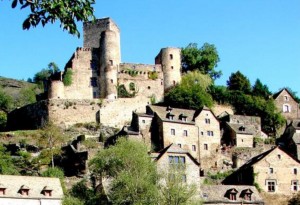 Who Loves ya Baby?
But wait – There's more! (three "mores" actually) The first being FOOD! And, as you might expect in a cow filled land, beef figures in the menus big time. The centre of "gastronomy"(fancy eatin') in the Cantal is the tiny(pop. – 1500) of Laguoile.(Curiously pronounced "la-ge-ol" by the locals, and "la –yol" by the rest of France.) THE place to chow down there is the Hotel/Restaurant Augy. Jean-Pierre and Isabelle Augy(she's the chef) will take good care o' you and yer stomach.
A Cheese runs through it
A huge contribution to France gastronomy are the cheeses of the Auvergne. Particularly the Cantal cheese. This is a semi-hard frommage(think consistency of cheddar)coming from the aforementioned Saler's cows, that's aged up to 18 months. Here, I promise you, more than any other region, you'll chow down on an incredible variety of exceptional cheeses. (and the wines not too bad either!)
The second more, is, ……a knife. The Laguoile knife.  Internationally renowned for the quality of materials, and workmanship. Virtually ever self-respecting Froggie Male has one on his belt  And, of course, there are steak knives, dinner sets, knives for every occasion, yada,yada,yada. The handmade versions can put a serious dent in yer wallet.(2000 euro plus) Naturally, they're a "must have" souvenir for touring Texan cattlemen!
The third more, is "Le Nature." The landscape. Miles and miles, of miles and miles.
A paradise for walkers. And, for most o' the rest, jus' a paradise. Especially if QUIET is at the top o' yer paradise list. And, happily, there is an association of country inns that specialize in quiet. They're :  relaisdusilence.com Locations all over France. And that includes the Cantal.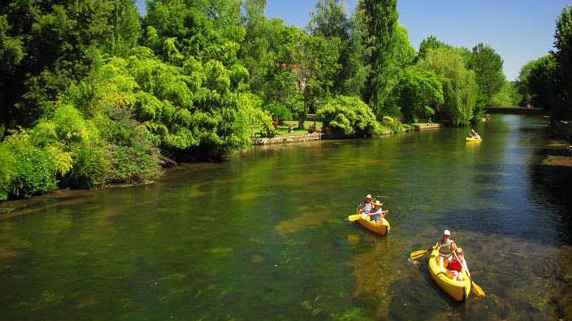 Enough ta get ya started?
THROW  ME  A  BONE  HERE  PEOPLE!
What are ya thinkin'?